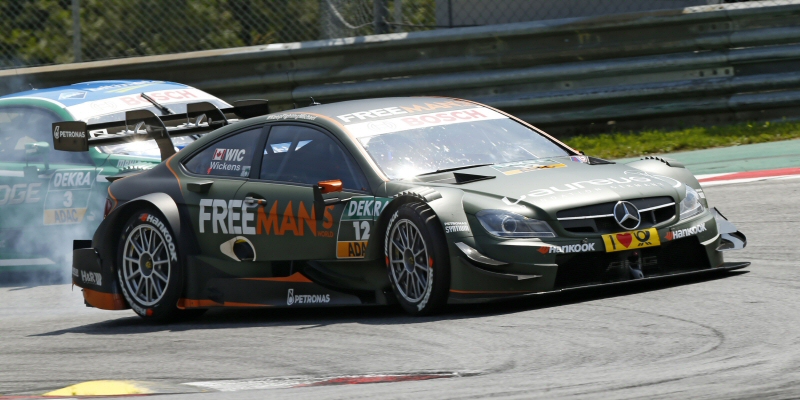 Mercedes-Benz Motorsport bosses Wolfgang Schattling and Toto Wolff have slammed the decision to black-flag Robert Wickens in Sunday's Deutsche Tourenwagen Masters race at the Red Bull Ring as 'incomprehensible' and 'not consistent'.
Wickens was leading the race when he was handed a drive-through penalty for having been deemed to have been released in an unsafe manner from his pitstop into the path of BMW's Timo Glock.
Mercedes chiefs however insisted that the release was not unsafe, with Wickens not coming in to serve his drive-through penalty within the required three laps of the notice. Consequently the Canadian was shown the black flag and disqualified from the race, despite his protests.
Wolfgang Schattling, Mercedes' Head of Communications and Marketing, labelled the decision as 'incomprehensible'.
"We had a very disappointing race today after a very positive qualifying," said Schattling. "Robert secured a fantastic pole position on Saturday and was leading the race. His tussle with Augusto Farfus was world class.
"Unfortunately, the race stewards then took what was for us a surprising and incomprehensible decision. In our view, there was no unsafe release after Robert's pit stop."
Schattling explained that Mercedes' believed the race stewards had been mistaken, with Pascal Wehrlein having been given an unsafe release into the path of Marco Wittman at exactly the same time as the leading sextet made their pitstops.
"We tried to speak to the stewards during the race, because we thought that they had possibly mixed up the incident of Pascal Wehrlein leaving the pit lane with that of Wickens," explained Schattling. "That's why Robert stayed out so long, but there's nothing you can do about the stewards' decision, particularly when a black flag is involved. For that reason, we then called Robert in. His fantastic race was totally wrecked by this decision."
Head of Mercedes-Benz Motorsport Toto Wolff was adamant that it was not an unsafe release and criticised the lack of consistency amongst the DTM stewards.
"From our perspective, it was very clearly not an unsafe release," said Wolff. "The decision is incomprehensible for me, especially since it is not consistent with other decisions that were made.
"However, we must accept the penalty, as those are the rules. In future, I think that in cases of doubt we should act in the best interests of racing. We owe that to all the fans of the DTM, of BMW, Audi and Mercedes."
Naturally Wickens, who sensationally took pole position on Saturday, was disappointed to have the chance to secure a second win of the season snatched away from him.
"That was a really disappointing afternoon for me," said the 25-year-old. "After taking pole position on Saturday, I thought I was in with a good chance for Sunday's race. My car was running exceptionally well on the prime tyres after the pit stop.
"As the rules stand and in my own personal view, it was clearly not an unsafe release. The penalty ruined my race and cost me a potential win."