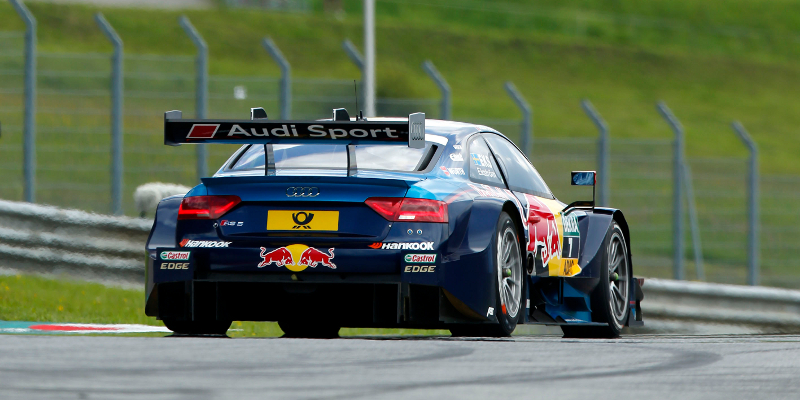 Audi's Head of DTM Dieter Gass says that his marque have 'something to make up for' at the Nürburgring this weekend, with their top driver Mattias Ekström 39 points adrift of championship leader Marco Wittmann with only four races remaining.
The Ingolstadt-based manufacturer has failed to win any races at all in 2014. Nevertheless Audi have four drivers inside the top six in the championship standings.
Gass admits that the marque's performance in qualifying has been one of the main issues in recent races, with only one Audi making it through to Q3 in Austria.
"Following the difficult weekend in Austria we can hardly wait to travel to the Nürburgring," said Gass. "We've got something to make up for. Our performance in qualifying was a shortcoming at Spielberg. That's why we are going to intensively prepare in order to work out a better starting base on Saturday for the next race.
"If we manage to do that we should be in contention for victory at the Nürburgring. Although Mattias' gap in the standings has become larger we're going to try and battle for the Championship."
Two-time champion Ekström has already begun to calculate how he needs to reduce his points deficit if he is to remain in championship contention throughout the final four races of the season.
With 25 points available for a win and 18 available for second, the Swede is aware that he needs to win races and hope that Wittmann does not continue to deliver the consistent form that has seen him only finish lower than sixth on one occasion in 2014.
"Theoretically, I have to score ten points more than him per weekend but the race winner doesn't score 10 points more than the runner-up," explained Ekström. "I don't think a lot about the battle for the title. It is far more important to achieve the right pace as that's what we lacked in the past weeks. Should we succeed in doing so, everything will be possible."
Ekström could end up being helped by the famously unpredictable weather in the Eifel region this weekend. In a memorable race in 2013, Mercedes' Robert Wickens took his first win in the series in changeable conditions.