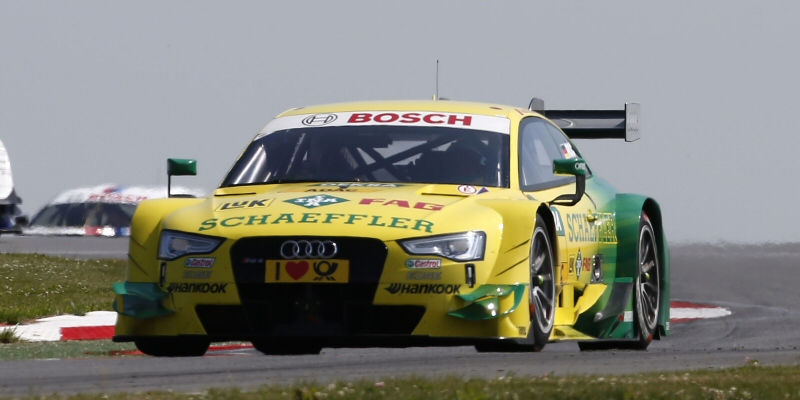 Mike Rockenfeller says he is "sorry" for hitting Audi stable-mate Adrien Tambay in the Deutsche Tourenwagen Masters race at the Moscow Raceway, which saw both drivers eliminated from the race.
Reigning champion Rockenfeller was running in fourth at the time behind Tambay with the duo circulating behind BMW leaders Maxime Martin and Bruno Spengler behind the safety car. However when the race resumed, just two corners after the green flags Rockenfeller hit Tambay.
"I can only say one thing: that I'm incredibly sorry for Adrien, Audi and my Phoenix team," said Rockenfeller, who has only failed to finish two races in the past five seasons. "It was clearly my mistake and not intentional. After the re-start, I just wanted to drive behind him, because a lap later I would have had to pit for a tire change anyhow.
"Maybe my front wheels weren't warm enough. In any event, I'm surprised that they locked and I slipped into the rear end of Adrien's car. Just slightly – but that's enough to make somebody spin. To make things worse, we touched and the race was over for both of us. I can only apologize to everybody involved in this."
Tambay was also forced to retire from a potential podium position, although the Frenchman did not specifically lay blame on Rockenfeller.
"The race was near-perfect – up to the re-start following the safety car period," explained Tambay. "Everybody saw what happened. I don't want to put the blame on anybody. Mike is sorry about the incident – two Audis colliding is something that shouldn't happen. But things like this do happen."
Having lost out on the chance to score points for five consecutive races, Tambay is now hoping to watch a German World Cup win with his Audi colleagues.
"We lost a podium result today, as we could have easily finished in third place. That was a shame and I'm hoping for Germany to win the World Cup."
The race turned out to be a total write-off for Phoenix Racing as Rockenfeller's team-mate Timo Scheider retired with fuel pressure problems after 22 laps, stopping on the start straight and necessitating the first safety car intervention. The double retirement is in stark contrast to 2013, when Phoenix and Rockenfeller tasted victory on the DTM's first foray into Russia.
"This year's race was as poor as last year's was great," said Ernst Moser, Team Director for Audi Sport Team Phoenix. "We were happy with the strategy and had a good speed on standard tyres, so I was optimistic.
"Unfortunately, there was contact between 'Rocky' and Adrien. That was a shame. In Timo's case the fuel pressure dropped to zero – that ended his race. Of course a total retirement is bad, but such things happen. On a race Sunday, everything's got to fit, and today it didn't."