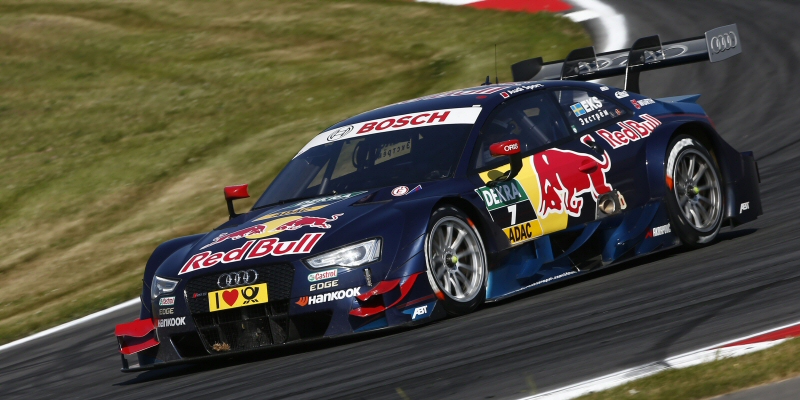 Audi's Mattias Ekström says that he is 'within striking distance' of Deutsche Tourenwagen Masters championship leader Marco Wittmann at the halfway stage of the season, after scoring his third podium of the season at the Moscow Raceway.
Ekström finished in third behind BMW's Maxime Martin and Bruno Spengler in Russia, despite having started the race down in 11th on the grid. It is the fourth successive race in which the Swede has started outside the top ten – and the second successive race in which he has scored a podium result against the odds.
"Sundays seem to be my days quite often," said Ekström. "This was another one of them – with plenty of tough fights. I had to keep my cool all the way to the end.
"Finishing this race in third place is okay, these are good points. However, I'm beginning to feel the loss of holding the 'big' trophy.
"We spend a lot of time with our engineers to find the optimum set-up for our Audi RS 5 DTM from all the data and to craft a perfect strategy from it," explained Ekström of his recent fights through the field. "That's great fun – especially if it results in success on race day."
As a result of his third podium of the season, Ekström is now second in the championship standings, 16 points adrift of leader Wittmann.
"The points we scored are more important than these statistics," admitted the former double champion. "We're in striking distance of the leader of the standings at the season's midpoint – that's what counts.
"Obviously, I'm happy about any trophy but it's time now for the Swedish national anthem to finally be played again on Sunday."
With the exception of the controversial Norisring race in 2013, in which Ekström was excluded from the results having originally won the race, the Swede has not taken victory since 2011. Having not won in 26 races now, Ekström reiterated that he still races to win in the DTM.
"We're going to continue to leave no stone unturned to start the races farther at the front. Victory continues to be the aim.
"A few tracks are coming up that suit me well. Above all, obviously, the Red Bull Ring, which should even be a good track for me due to its name. I've won races before at the Nürburgring and at Lausitz as well.
"The plan is to take a bit of a breather during the short summer break and to subsequently go for all-out attack."