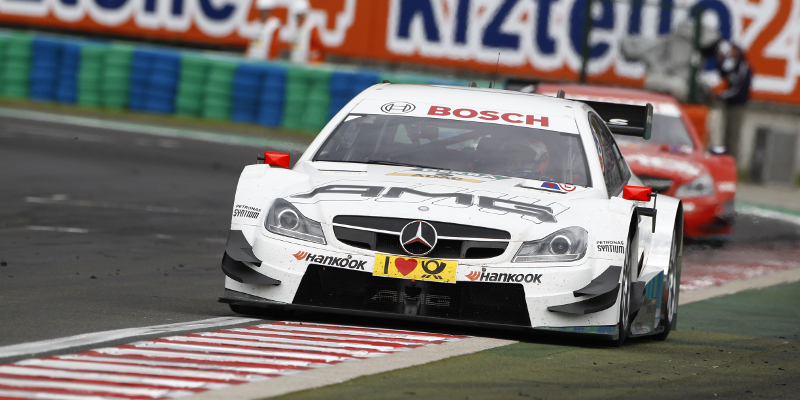 Mercedes-Benz have been given a special exception in the Deutsche Tourenwagen Masters regulations which will enable the manufacturer to enhance their 2014 car and contest a day of testing before the 25th September.
The Stuggart-based manufacturer has been struggling for pace throughout the 2014 season, with the majority of its cars regularly being eliminated in the first part of qualifying.
Mercedes-Benz have failed to finish with a car inside the top ten in two of the season's three races thus far – the first time in the history of the DTM that such an event has occurred.
In the dry, the marque's C-Coupé's are said to be around four tenths off the pace. Christian Vietoris secured the brand's only victory thus far in the second race in Oschersleben, despite posting the slowest 'best lap' of the race, due to the wet conditions and team strategy.
"Freezing the homologation of the DTM vehicles up to the end of the 2015 season represents an important step for reducing the costs," said DTM boss Hans Werner Aufrecht. "The fact that the commission also defined exceptions that allow enhancements in certain circumstances demonstrates that the three premium-car manufacturers involved truly live the DTM spirit."
"We met the wish of all the DTM manufacturers by defining clear regulations and deadlines for the homologation of the DTM vehicles while making sure that we keep the necessary flexibility," explained DMSB President Hans-Joachim Stuck. "I'm convinced that it's in the interest of DTM and even more so of the fans that all the manufacturers involved in the series are on a par with one another."
Car homologation will also be frozen until the end of the 2015 season, mainly in the area of the suspension. If all three involved manufacturers, BMW, Audi and Mercedes, making a joint application then the homologation regulations may be further adapted.
In addition to the changes to help Mercedes, additional changes have been made to the sporting regulations. If a race is declared as a 'wet' race before the start then there will be no specific time frame in which the obligatory pit stop must be completed.
There will also now be two 60-minute practice sessions on the Saturday prior to qualifying, instead of the one 90-minute session used so far this season and in 2013.