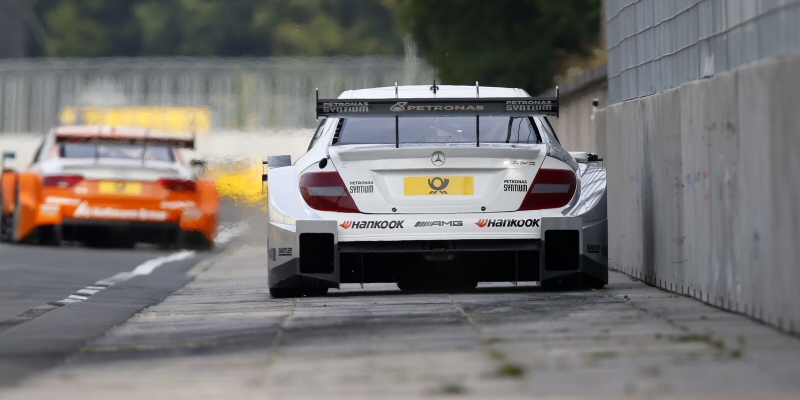 Mercedes' Paul Di Resta admits that there is "light at the end of the tunnel" after the Scot qualified in second position for the fourth round of the Deutsche Tourenwagen Masters at the Norisring.
The result is the first time since the 2010 season finale that Di Resta has been on the front row of the grid in the DTM.
"It's great to be back on the front row," said Di Resta. "We can now see some light at the end of the tunnel, although in the run-up to the weekend, we hadn't been expecting all that much.
"We're obviously very satisfied with our team result today, but we need to wait and see what happens with the weather between now and tomorrow."
Di Resta acknowledged that the unique characteristics of the Norisring – with its heavy braking zones and lack of high-speed aero-dependent corners – had played to the strengths of his C-Coupé, and that things may continue to be a struggle for Mercedes at the more traditional race circuits.
"The first few races of the season were a painful experience for our team, and we realise that we're still a long way from where we'd like to be," explained the 28-year-old. "There's no guarantee that things will carry on like this at the next race in Russia.
"Nothing is ever quite so simple in the DTM, but it's a pleasant reward for all the hard work done by the team in the last few weeks – they have put in a tremendous effort to improve the car."
Mercedes have won every DTM race at the Norisring between 2003 and 2012, and with no winner officially declared for last year's event, the marque technically remain unbeaten at the circuit in more than a decade.
Mercedes' Head of DTM Marketing and Communication Wolfgang Schattling admits that the manufacturer had hoped to be strong at the city circuit on the basis of past performances at the venue.
"This qualifying result is a nice surprise for us," said Schattling. "We had hoped before the race weekend that we might be stronger here because we've been quick at the Norisring in recent years, but to put five cars on the first three rows of the grid is absolutely fantastic.
"This result does the entire team a power of good after a difficult start to the season. However, things could look very different in the race itself, especially if it actually begins to rain. And so, we are not going to start feeling overconfident after this good qualifying performance and will continue to work hard in order to secure another decent result tomorrow."