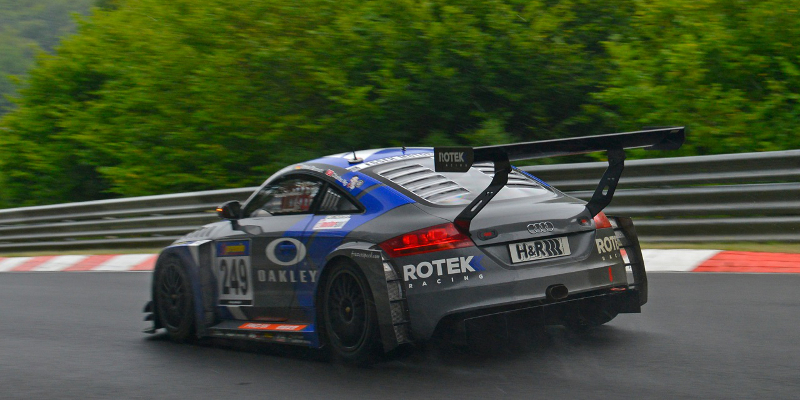 World Touring Car Championship regular Rob Huff will face a double challenge this weekend, as the LADA Sport driver competes at Spa-Francorchamps and also at the Nürburgring 24 Hour race for Rotek Racing in an Audi TTRS.
Huff will contest the WTCC races at the Belgian Spa-Francorchamps circuit for the first time since 2005, when the Brit was a works Chevrolet driver. Back then Huff took a best finish of 11th around the 4.35 kilometre circuit.
The Brit will take part in the legendary 24 Hour race around the Nürburgring Nordschleife on Saturday following WTCC qualifying, partnering Robb Holland, Kevin Gleason and Darryl O'Young in a Rotek Racing Audi TTRS.
With the two circuits just 70 km apart, Huff will first complete his WTCC commitments on Saturday before heading over to the Nürburgring after qualifying at Spa. The former WTCC champion admits that chances such as this rarely arise.
"I have a really exciting weekend coming up, as I have the opportunity to race on two of the most iconic racetracks in the world in quick succession," said Huff. "These sort of chances rarely arise, but they're what you go racing for so I genuinely can't wait to get underway at Spa-Francorchamps and the Nürburgring Nordscleife.
"First of all, it was great to be able to complete the six-hour qualifying race at the Nürburgring earlier this year and I believe Rotek Racing has all the necessary ingredients to produce a great result in this weekend's 24 Hours, just as we did in the 25 Hours of Thunderhill in December. It's always nice to link back up with Robb Holland and Kevin Gleason, especially in Rotek's Audi TTRS, and I think we can only aim for the outright front-wheel-drive victory."
Huff admits that he is not expecting a particularly strong weekend in the WTCC at Spa, with his LADA likely to suffer on the long and fast straights due to its basic aerodynamic package.
"For the WTCC's Race of Belgium at Spa, I have slightly more modest ambitions, as the length and fast, flowing nature of the circuit is unlikely to favour the LADA Granta TC1," admitted Huff. "While ORECA has provided the team with very strong engines, our high-drag aero package will hinder us on the long straights and through Spa's many fast turns, extending the gap to our Citroën, Chevrolet and Honda rivals.
"We're praying for rain in this one and the weather is notoriously changeable in the Ardennes Forest. The Granta has proven to be quite effective in tricky conditions and we'll have a good shot at solid points finishes should the heavens open."