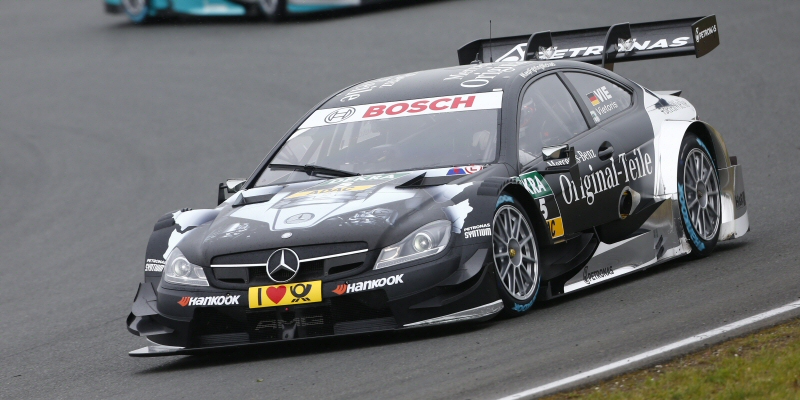 The newest winner in the Deutsche Tourenwagen Masters, Christian Vietoris, admits that his Mercedes-Benz team are still not fast enough to win in all conditions, despite taking a surprise win last time out.
The DTM heads to Hungaroring near Budapest this weekend for the third round of the championship. The circuit is notoriously difficult to overtake at and, with the prospect of a dry race on Sunday, Vietoris has played down his competitiveness for the weekend.
The German admits that part of the success in his victory was due to the fact that everything fell into place last time out in Oschersleben.
"I began this season with the aim of winning my first DTM race," said Vietoris. "I never expected that it would happen so quickly after such a tough start to the season in Hockenheim.
"My team did a fantastic job at the last race weekend in Oschersleben, and everything went well – car, pit stops and strategy were all perfect in tricky conditions – but we mustn't lose sight of the fact that we are not yet where we want to be in the dry. We're still not fast enough to win in all conditions."
The 25-year-old says that whilst his car is lacking in pace, strong teamwork and strategy helped him to his first career victory in the DTM.
"At Oschersleben we showed that we're trying to achieve the very best results possible in the circumstances, utilising a well-thought out strategy and solid teamwork to compensate for the situation," added Vietoris. "But there's still a lot of work to do to increase our cars' performance in all conditions over the coming weeks."
Toto Wolff, Head of Mercedes-Benz Motorsport, admits that the circumstances surrounding the marque's first win of the season are not likely to manifest at every event for the rest of the season and cautioned that Mercedes still has work to do in dry conditions.
"Our first win of the season in the previous race at Oschersleben has given our team an extra motivational boost," said Wolff. "However, we are aware that this victory came about in particular circumstances. Therefore, we will continue to work tirelessly to go on improving our performance in the dry."