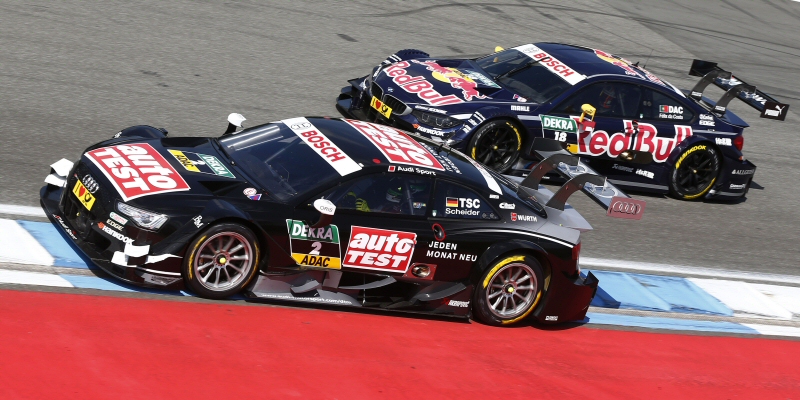 Audi Sport Team Phoenix's Timo Scheider believes he could have scored a podium finish but for contact with BMW's António Félix da Costa, with the German eventually finishing in ninth.
Scheider had been running third when da Costa made a move on the former double-champion at the hairpin with ten laps to run, causing Scheider to spin. Da Costa would receive a penalty for the incident, leaving him to finish out of the points in 21st, whilst Scheider was able to salvage a couple of points with ninth after losing a couple more positions in the closing laps.
"On the option tyes, everything was going according to plan in the beginning," said Scheider. "We didn't know what to expect but our prediction that it would be going well was right. The pit stop went well too.
"I had a realistic chance of a podium place. Unfortunately, António Félix da Costa hit my car in the hairpin turn during a yellow period, which easily cost me ten seconds. At the end I had to defend myself against three BMW on option tyres and that didn't work out so well. As a result, I lost a few more positions."
Da Costa himself was apologetic for the incident, which put a damper on an otherwise strong début DTM weekend.
"Three quarters of today's race were fantastic for me, but then I made a big mistake," said da Costa. "It was not very clear, as the yellow flags had just disappeared again, and I had the impression that Timo Scheider had gone a bit wide in the corner. Therefore, I saw the opportunity for an attack – but I should not have done. I would like to apologise to Timo and Audi. That sort of thing should not happen. However I will now forget about this race."
Audi Sport Team Phoenix Director Ernst Moser was pleased with the season opener for the team which, aside from Scheider's unfortunate incident, saw progress made for both drivers on raceday at the Hockenheimring. Reigning champion Mike Rockenfeller finished the race in fourth overall, having started from tenth on the grid.
"I'm pleased – our intention was to achieve as much as possible from grid positions nine and ten, and we managed to do that," said Moser. "If Timo had not been unfortunate due to collisions that were not his fault he'd have the possibility to finish on the podium.
"We used a fifty-fifty strategy and that worked out too. We did everything right, the cars are fast, the drivers are good, and the team performed good stops."