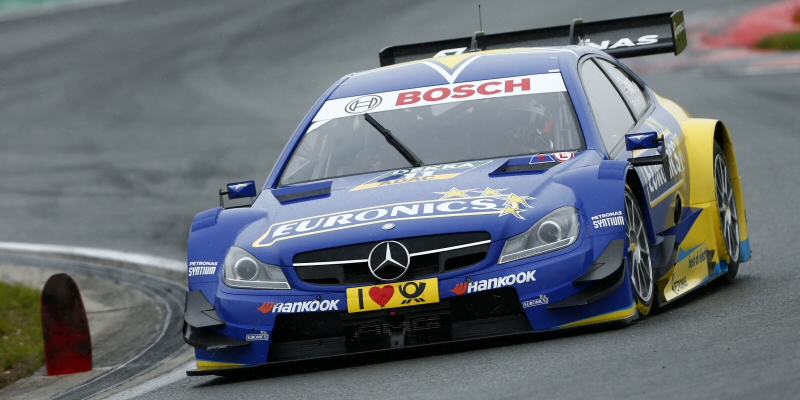 Mercedes' Gary Paffett admits that he is annoyed with himself after the Deutsche Tourenwagen Masters race at Oschersleben, with the Brit feeling that an early mistake cost him a better finish than eighth.
Paffett endured an up-and-down race at the circuit near Magdeburg, being caught out by the first two safety car interventions which left him high up the order but on the wrong tyres for the track conditions.
Ultimately the third safety car intervention aided the Brit, who went on to finish in eighth and take his first points of the season.
"That was an incredible race which was very difficult and confusing for us drivers and for the team alike," admitted Paffett. "The whole afternoon was a mixture of emotions. I got off to a phenomenal start, had good pace and was closing up on the leaders.
"Then I made a mistake on Turn 2 where I hit the wet kerbs and spun round. I was disappointed with myself for getting into such a situation. So I found myself at the back of the field and had to fight my way through again."
When the rain intensified, Paffett elected not to pit at the same time as his rivals. The decision proved to be the wrong one, exacerbated by the safety car intervention.
"It started to rain and we were confronted with the decision of whether to change the tyres or not," added Paffett. "As you know, we have one mandatory stop during the official pit stop window, but the rain had started to set in just before.
"We took the decision to stay out. Unfortunately, that was the wrong call, as the track was getting wetter and wetter and the car was becoming harder to drive.
"When the pit stop window opened, we immediately switched to wet weather tyres. The safety car period obviously helped us to get back into a points-scoring position."
Despite finishing in the points – which Paffett had not expected – the 2005 champion still admitted to being annoyed with himself about his earlier mistake, which he feels cost him a higher position.
"Ultimately, I finished eighth and we scored points which – to be honest – we hadn't been expecting going into the race," said Paffett. "So I'm satisfied on the one hand, but I'm still annoyed with myself about the mistake early on."