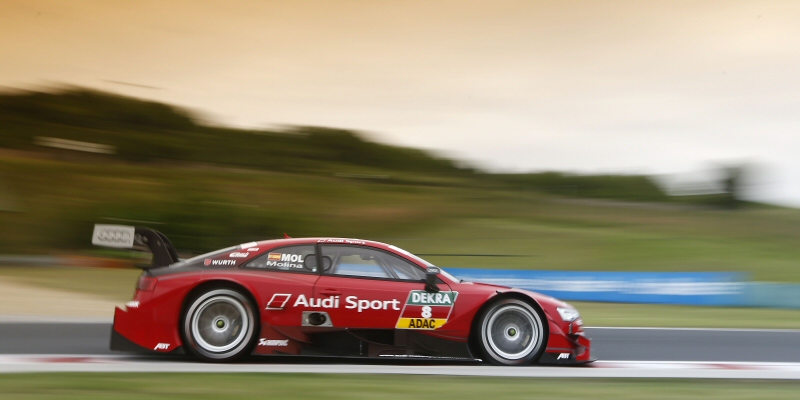 Miguel Molina qualified as the top Audi driver in third during qualifying for the Deutsche Tourenwagen Masters at the Hungaroring and the Spaniard expects to be in contention for victory in Sunday's race.
Molina, who has found form in recent events, was again the top Audi driver in qualifying. The 25-year-old had previously been on pole at the last event in Oschersleben, but lost it for a technical infringement through no fault of his own.
"Obviously it's good to be in a position at the very front," said Molina, who will start from third on the grid. "I do believe though that today this was all we had in our quiver. Today, the BMW were very fast. We did everything right and have good chances of being in contention for victory tomorrow."
Dieter Gass, Audi Sport's Head of DTM, praised Molina for his performance – especially on the back of his qualifying disappointment at the previous event.
"Congratulations to Miguel, who is extremely strong this year and has not been discouraged by the misfortune he suffered in the first two races. This clearly speaks for him," said Gass.
"Adrien [Tambay, seventh on the grid] has shown another good performance too and our youngster Nico Müller made it into the top eight for the first time."
Despite three Audi's making it through to Q3, Gass admits that he is not pleased with the results of qualifying after comprehensively being beaten to pole position by BMW.
"Obviously we're not happy with the qualifying results though," admitted Gass. "But the DTM always has surprises in store. We're going to leave no stone unturned to show a good race to the large number of employees from our plant in Győr who are traveling to the Hungaroring tomorrow."