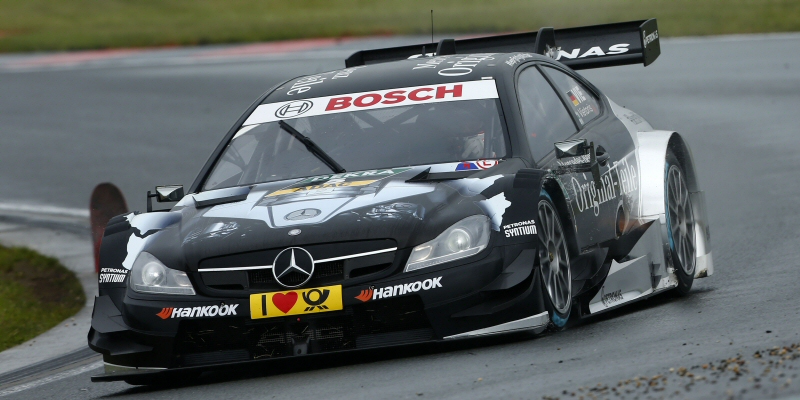 Mercedes-Benz Head of DTM Management Wolfgang Schattling admits that the marque must not get carried away with their surprise win in the race at Oschersleben, admitting "there's a long way to go" with their recovery in the series.
Christian Vietoris scored a shock win for Mercedes from 16th on the grid in wet conditions in the second round of the championship, after his team worked their strategy to perfection in the safety car-interrupted race.
However Mercedes still struggle for pace in qualifying – with only one car inside the top 15 – and Schattling admits that the manufacturer must not get carried away with their win.
"This victory is good for the whole crew – Christian drove a great race and our team made all the right decisions," said Schattling. "Nevertheless, we must not forget that we are still down in normal conditions and must catch up bit by bit. There's a long way to go. We're enjoying today's success, but we will continue to work to reduce the gap on our competitors, starting immediately tomorrow.
"The key to today's result was that our technical team took a superb decision concerning strategy in a tricky phase of the race. Before the start, no one would have expected us to actually win. We only began to hope that we might actually pull it off after the second safety car period."
Schattling admits that the team became worried about a late-race push from Audi's Mike Rockenfeller, who ultimately finished second, taking the win away from them.
"Our collective pulses began to race when Mike Rockenfeller began to close again on Christian towards the end, so we were really happy that ultimately, he did enough to win."
Vietoris, 25, says he had been hoping for wet weather due to Mercedes' significant lack of performance in the dry. The German praised his team's strategy which helped him to victory against the odds.
"My first DTM victory! To have secured it under such difficult circumstances and in such an eventful race is simply incredible I'm absolutely delighted," said Vietoris.
"We had been hoping for rain because our pace in the dry still isn't good enough. A wet weather race was our only chance of challenging for the win today, and we exploited this opportunity to the full. My team did a fantastic job today with the pit stops and strategy – this victory belongs to everyone in the crew.
"All the same, we need to keep our feet firmly planted on the ground. We are fully aware that we have to raise our performance under normal race conditions, and we'll be going about that very systematically in the coming weeks."