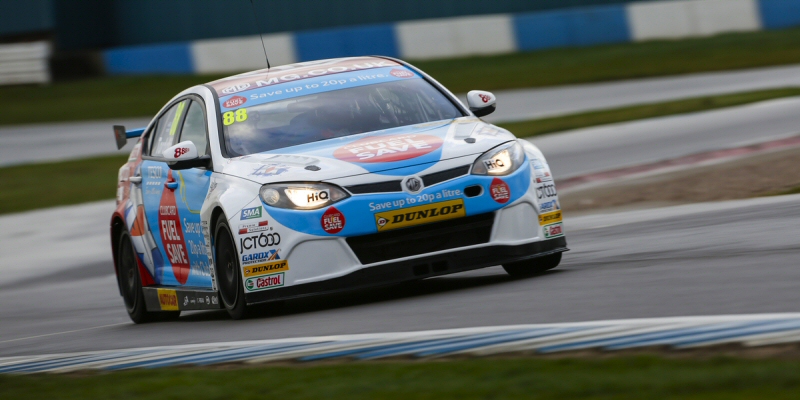 Sam Tordoff was the fastest driver in the second British Touring Car Championship free practice session at Donington Park, posting a time comfortably half a second under the qualifying lap record.
MG's Tordoff went to the top of the times after just seven minutes and went on to improve his lap three times during the session, with his final improvement coming with eight minutes to go and leaving him two tenths clear of second-placed Árón Smith, who had earlier been fastest in first practice.
Swiss star Alain Menu was third fastest to leave the two CHROME Edition Restart Racing Volkswagen's in second and third, with the cars appearing to be particularly strong around Donington Park.
Jason Plato was fourth fastest behind his 1997 and 1998 team-mate, with Adam Morgan putting his WIX Racing Mercedes fifth fastest.
Gordon Shedden was the top Honda driver in sixth, ahead of reigning champion Andrew Jordan's hatchback Civic.
Marc Hynes was once again inside the top ten in eighth, ahead of Fabrizio Giovanardi and Martin Depper who both improved their times inside the final minute of the session.
Three drivers were shown the black flag during the session for exceeding the track limits, with Rob Austin (18th), Glynn Geddie (21st) and Hunter Abbott (23rd) all having their sessions slightly curtailed.
Of note, eBay Motors experienced a difficult session with none of its drivers inside the top ten, leaving Rob Collard in 13th, Colin Turkington in 16th and Nick Foster in 20th.
Qualifying takes place at 15:40 and is broadcast live at www.itv.com/btcc.
Top ten times