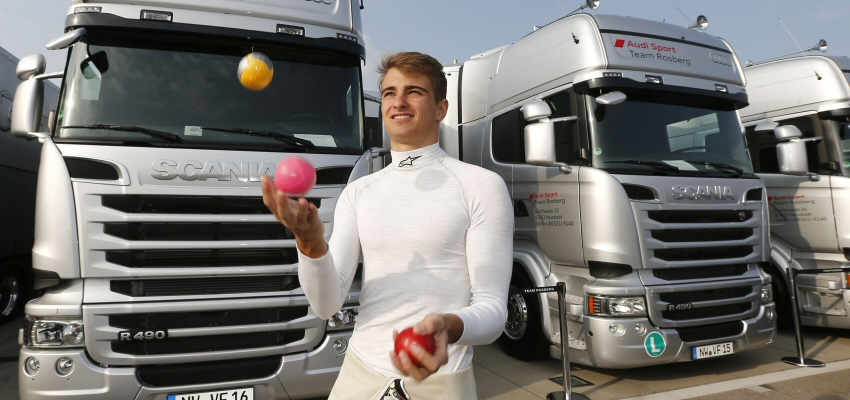 Audi Sport Team Rosberg's Nico Müller says he feels positive after his first Deutsche Tourenwagen Masters test last week at the Hungaroring, where the Swiss racer posted the second fastest time overall.
Audi's Müller was in action on the second and third day of the four-day test in Hungary, posting the fastest time of the day on his first day of running.
Not only Müller but also Audi fared well during the Hungaroring test, with the Ingolstadt marque locking out the top four times on the opening day and following it up with the top two times on day two. Audi ultimately fell just short of the overall fastest time in the test, which went to Mercedes' Christian Vietoris on the third day.
"I felt very comfortable from the very first laps in the Audi RS 5 DTM," said Müller. "It was important for me to see, because I was confronted by a lot of new things. In general, the test in Budapest also went extremely well for Audi, we were able to work through our test program. We now have to make sure we implement everything we've learnt throughout the season."
Müller added that he felt immediately at home in his new team, where he will line up alongside experienced DTM racer Jamie Green in 2014. The Swiss racer also said that it will take time for everything he learnt to sink in.
"I didn't just feel at home immediately in the car, but also in my team," admitted Müller. "Working together with my engineer and teams worked exceptionally well. They did a top job, we didn't have a single technical problem with the car. It was a great start to a hopefully successful season.
"There really is a huge amount of knowledge. I was able to collect so many new impressions. And I need one or two days to full digest everything I learnt. There were so many new things, so it's not so easy to name one specific aspect.
"The most important finding was certainly being able to experience how the work in the new team functions. Audi Sport Team Rosberg and Audi Sport are significantly bigger that the teams I have previously driven for. It was impressive to experience this live for the first time."
The second official ITR test session takes place at the Hockenheimring between the 14th and 17th April.