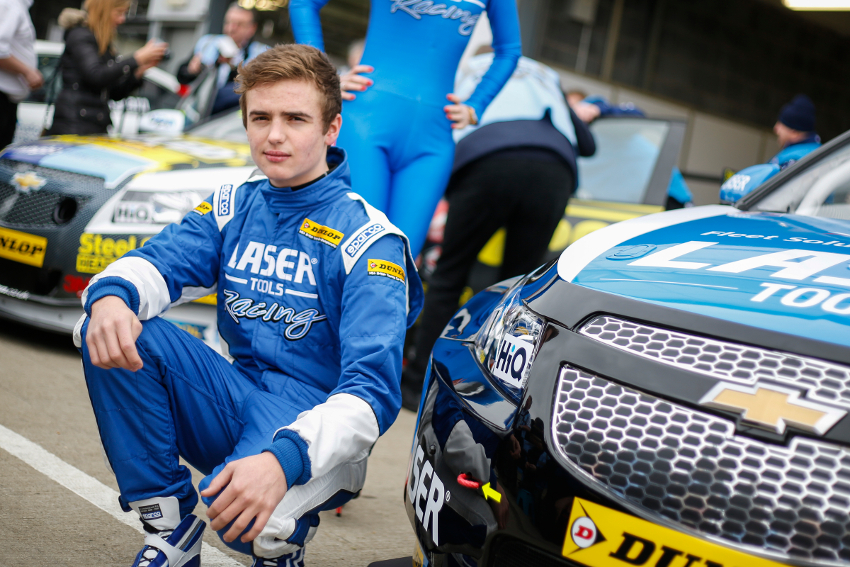 Aiden Moffat is hopeful that his first full season in the British Touring Car Championship will provide the basis for a prolonged presence in the series.
The youngster became the youngest ever participant in the series last year when, at the age of 16 years, 10 months and 28 days, he drove an s2000 Chevrolet Cruze at his home race at Knockhill, performing well across the weekend despite being in slower machinery.
That performance led to him being snapped up by Tony Gilham's outfit for the final two rounds of the season, with Moffat scoring three points in the process.
With Moffat switching to a new Chevrolet Cruze for 2014, he hopes that those performances have helped to dismiss any preconceptions that some had about him when he first joined the series, while adding that a first full campaign was an exciting prospect.
"I think there's more excitement now than for the debut because obviously in that last year it was more nerves and not knowing what to expect," said the 17-year-old. "There was a bit of pressure last year because of how young I am compared to a lot of the people out there.
"It was just [a case of] going out there and showing people that we're not just here to get our pictures taken, we're here because we want to be here and we're here to race so I think the pressure has lifted now we've got a couple of not too bad results in.
"This year we've not got a point to prove so we can just focus on the job in hand and hopefully as a driver and a team progress through the year and get further up the grid as we go."
Moffat suffered a setback in his preparation for the 2014 season in February when he crashed his Laser Tools racing Cruze at Thruxton.
While the damage sustained in the impact was not as bad as initially as feared, the Scot admitted that it had thwarted their pre-season schedule.
"It was a massive crash," said Moffat. "When we had it, at first we thought the car was written off but it wasn't as bad as it looked, it was more panel damage.
"Fixing the car wasn't the problem, it was more waiting on some of the parts. That set us back a couple of weeks and didn't quite give us a chance to do as much testing as we could have but the car is better now than it was prior to the crash – we've given it a thorough looking-over and rebuild.
"We've not had as much testing as we'd ideally like to have but we've got a bit more confident with the car.
"We're nowhere near our full potential yet – I think we have a bit more confidence in the car so I think it will make the first race this weekend a lot easier for us.
"The car is a great car, a strong car so we've got the right machine under us, we just need to get the right experience in."
Looking forward to the upcoming season, the youngster said it would be a strange experience to take to the track alongside no less than seven champions – with Alain Menu winning his first title before Moffat had reached the age of one.
"It's weird because when you hear of all the names at first you're thinking how good they'd be to watch and then you come to the realisation that you're out there with them," exclaimed Moffat. "I've always been a supporter of the BTCC and it's always been somewhere I've wanted to race, however I always thought if I was lucky enough to get here it wouldn't be for a good three years yet so to be out there with all these guys, it's brilliant.
"Obviously it's not going to make things easier for people like myself in the championship, but there's not much better people to learn from than champions, they're all great drivers in their own right."
As for his expectations for the upcoming season, Moffat sees 2014 as a learning year to better prepare himself and the team for a future in the series.
"We don't have expectations as such," said Moffat. "We're young and have a lot less experience as opposed to a lot of other drivers and we're not expecting to go out there and do well, we're expecting to go out there and be near the back of the field really.
"We've got aims – both personal and team aims – for us to progress and get better throughout the year but we're not looking at this as a one year assault, we're looking at it [the series] over a period of years so I think this year is all about learning for us.
"It would be brilliant if we got right up there but obviously that's not going to happen this year but that's what we're looking at – we're looking to progress as the year goes on and in the future hopefully get near the front."