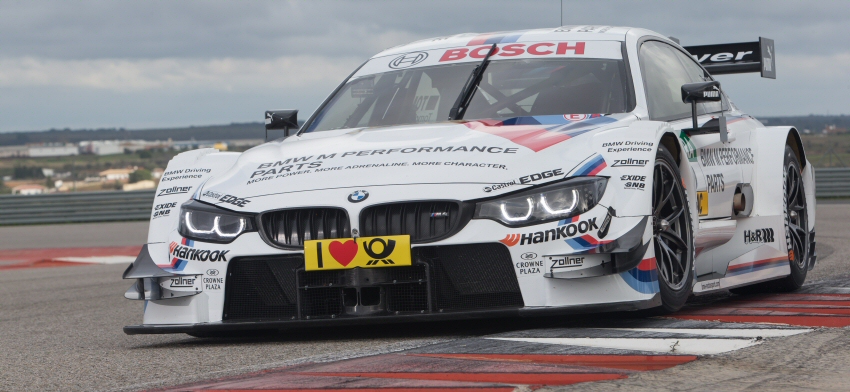 BMW have revealed their M4 car which they will campaign in the Deutsche Tourenwagen Masters in 2014, after having submitted their papers to the German Motorsport Body (DMSB) for approval.
The car will make its first public appearance at the official ITR tests in Budapest between the 31st March and 3rd April and then at the test at the Hockenheimring between the 14th and 17th April.
BMW competed with the M3 DTM during its first two years back in the DTM in 2012 and 2013, taking the title on its first attempt. The new car therefore has a lot to live up to. BMW Motorsport Director Jens Marquardt says the marque has been working on the car since the end of 2013.
"Even before the BMW M3 DTM completed its final race last season, our development team was already hard at work on the 2014 car," said Marquardt, who drew emphasis to the importance of aerodynamics in the German series. "Preparing a new car for the DTM is a big challenge. In few other series is aerodynamics so important. Even the slightest detail can make the difference between success and failure.
"This attention to detail shown by our engineers is apparent at first glance – from the elongated bonnet with its steeply sloping front and aerodynamically optimised wing mirrors, to the contoured roofline that is a characteristic feature of the BMW M4."
Marquardt added that the team were confident of stroung results from the outset, having the advantage of two years of DTM experience to put into the new car.
"Unlike when we were developing the BMW M3 DTM for our return to the DTM in 2012, this time around we were able to call upon the wealth of experience gained over the last two seasons," added Marquardt. "Despite this, we still have a long road ahead of us – the opposition have continued to develop their cars in the meantime.
"It is important to continue gradually improving the new car and ensure we can get the very best out of it, in order to be able to compete on a par with our strong and experienced rivals right from the outset with the BMW M4 DTM. I am confident we will achieve this."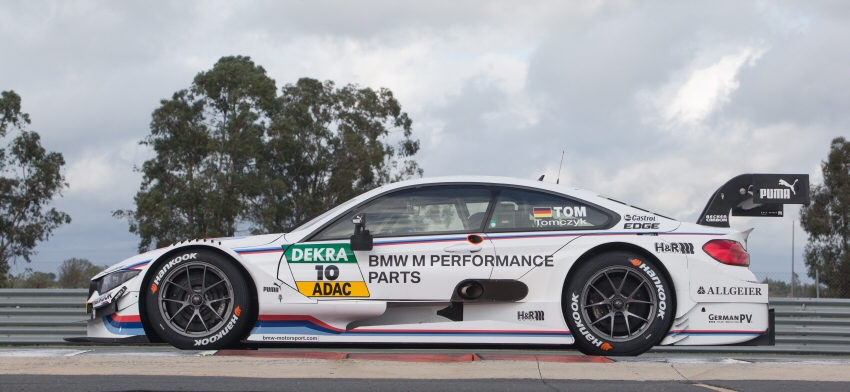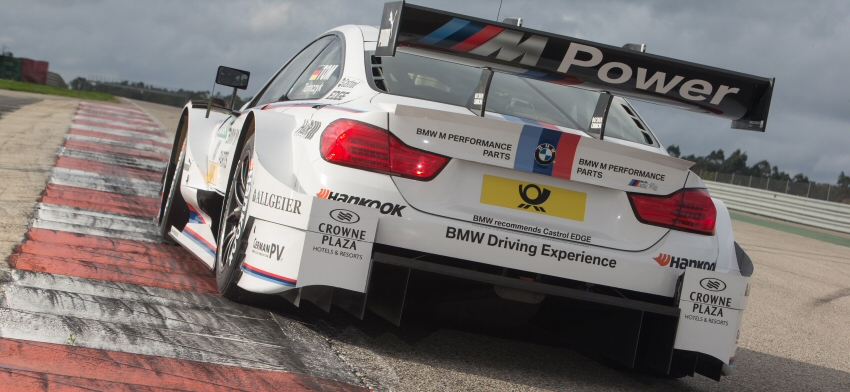 Technical data for the BMW M4 DTM.
Chassis: carbon-fibre monocoque with integrated tank and steel roll cage; carbon-fibre crash elements on sides; carbon fibre crash elements on front and rear
Length/width/height: 4,775 mm/1,950 mm/approx. 1,200 mm
Tank capacity: 120 litres
Engine: 90° V8 aspirated engine, four valves per cylinder, 2 x 28.0 mm air restrictors (in accordance with regulations)
Capacity: 4,000 ccm
Output: approx. 480 bhp (with air restrictors, in accordance with regulations)
Max. torque: approx. 500 Nm
Engine management system: Bosch MS 5.1 engine control unit, central display
Transmission: Sequential 6-speed sports gearbox, operated via pneumatic shift paddles mounted on the steering wheel; 4-plate ZF Sachs carbon-fibre clutch; adjustable multi-disc limited-slip differential
Front axle/rear axle: Double wishbone axle with pushrods and adjustable shock absorbers with six settings; H&R coil springs
Brakes: Hydraulic dual-circuit braking system; monoblock, light-alloy brake callipers; inner-ventilated brake discs at front and rear; brake-force distribution can be adjusted by driver; electromagnetic starting valve
Wheels: Forged aluminium rims; 18″ x 12″ front, 18″ x 13″ rear
Tyres: Hankook; front: 300-680-18, rear: 320-710-18