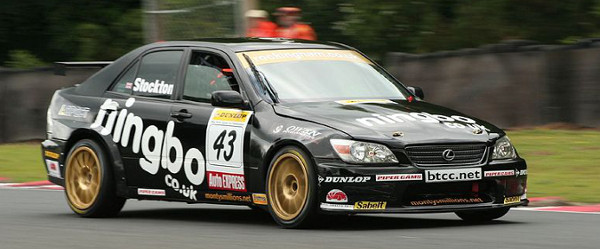 BTC Racing's Chris Stockton is hopeful that he will be able to compete with series stalwarts when he makes his return to the British Touring Car Championship in 2014.
Having made his last appearance in the series in 2008 in a Seat Toledo, Stockton will compete from 2014 in an all-new NGTC Chevrolet Cruze which was initially developed by the RML squad for the BTCC.
Speaking at the Autosport International Show, the 44-year-old was happy to be returning to touring car action, after having to wait slightly longer than expected.
"We're really looking forward to it [returning to the series]," Stockton told TouringCars.Net. "It's been a lot longer than we'd hoped, building the car and designing the car, but I'm sure it's been worth waiting for. We'd hoped to do the last two or three rounds last year but it just didn't happen and we're glad it hasn't really because at least now we've got a car that is 98 per cent ready and we can go and test it before we run instead of being on the back foot like we've always been before."
With  BTC Racing's Chevrolet Cruze waiting only on components to be completed, Stockton believed that the time left for testing could only be good for the season ahead.
"It's [testing] got to help, we can't just go in with a brand new car and a brand new design and have it run well first time out off the drawing board."
Stockton was also quick to point out the importance of coming back to the series as part of a close-knit team, and that their efforts would make any success well deserved.
"It's great – we're all good friends which is pretty critical really. We're a family team and we all compete for the love of the sport. If we get any success it will be seriously well earned."
Stockton sees his return as a long term stay in the series, which he thinks will be helped by the introduction of race licences by series organisers TOCA.
"Yes we do [see ourselves as long term]. I think it's the right way to go forward for the sport for TOCA and Alan Gow and it's the right way for the teams. It adds value to a team, it adds value to the car and makes the whole thing stack up because at the end of the day it is a fierce amount of money to actually get into it so it gives you something quantifiable at the end of it."
Despite being quick to play down thoughts of regular points finishes, Stockton was confident that the car would be able to compete in the pack when the series returns at the end of March.
"Our expectations are low initially," said Stockton. "It's stupid to think we'll be on the podium early on but it's what we're aiming for, make no mistake about it we're not there just to make up the numbers on the grid. We want to be competitive, how competitive we'll be…I wouldn't be arrogant enough to even take a guess at it but we will seriously be trying."