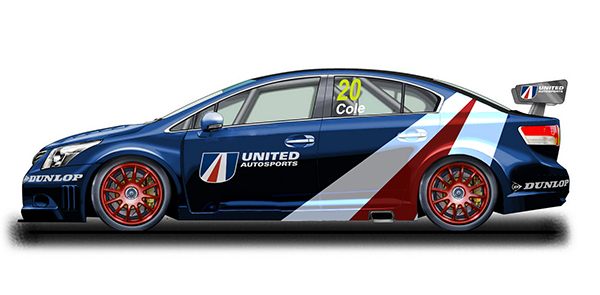 Anglo-American outfit United Autosports announced today that they will make their debut in the British Touring Car Championship from next season, when they will field two ex-Dynojet Toyota Avensis' for James Cole and Glynn Geddie.
The squad, which is US-owned but based in the UK, has previously raced in sportscar events including GT3 and the Daytona 24 hours and will continue a GT campaign alongside their new venture.
The signing of Cole will bring the team a degree of experience in the BTCC, the 25-year-old having competed in the first half of the 2013 campaign for Tony Gilham's Team HARD. squad, while Geddie will follow the team into the series having competed with them in the Dutch Supercar challenge as well as undertaking a partial campaign in the British GT championship in 2013.
Zak Brown, owner of the squad, was excited to be taking on a new challenge having established and nurtured the outfit to its current state.
"The British Touring Car Championship is the most popular motor racing series in Great Britain outside of Formula 1," said Brown. "It's seriously competitive, the racing is exciting and it's commercially viable, as the capacity grids show. I'm thrilled that United Autosports are going to be part of the BTCC as well as continuing our strong presence in the British GT Championship."
Managing director and co-owner Richard Dean was also thrilled by the announcement, and is keen to see how his driver pairing will fare.
"We are really excited to be entering the 2014 British Touring Car Championship," added Dean. "It's a new direction for the team and the BTCC is known across the country as a highly competitive championship so we are looking forward to taking on the new challenge.
"We have a strong driver line up in James and Glynn; James' BTCC experience and Glynn's pure driving skill will be invaluable to the team in 2014. We will still be entering the British GT Championship with Mark Patterson and Matt Bell, along with attending other overseas races throughout the year."