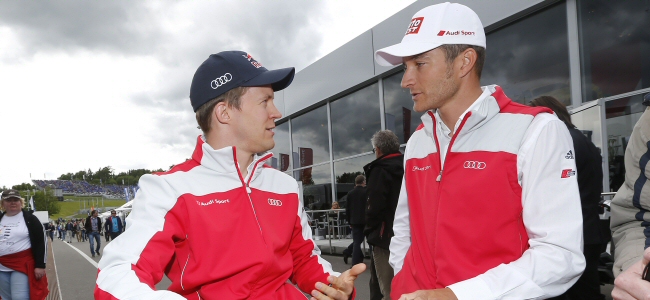 Audi have announced that they are to retain their two-time Deutsche Tourenwagen Masters champions Timo Scheider and Mattias Ekström for the 2014 season.
Scheider and Ekström are the DTM's most experienced drivers, having competed in the series since 2000 and 2001 respectively. Between them the German and the Swede have secured four titles, with Scheider securing back-to-back titles in 2008 and 2009 and Ekström winning the series in 2004 and 2007.
"I'm delighted that, alongside title defender Mike Rockenfeller, our two most successful DTM drivers also continue to be on board," said Head of Audi Motorsport Dr. Wolfgang Ullrich. "Eki and Timo have been important pillars of our DTM squad for years. They're great guys, strong personalities, popular with the fans and perfect ambassadors for the four rings."
Of the two, Ekström has spent the longest time with Audi, having raced all of his 133 races at the wheel of one of the Ingolstadt manufacturer's cars, although he raced in his first three seasons for the non-factory supported Abt Sportsline squad. Since 2004 Abt have secured works backing, with Ekström an integral part of the team.
"Audi has long become my second home," said Ekström. "I'm fully motivated to battle for victories and Championship titles for Audi again in 2014."
Scheider joined Audi in 2006 after five years racing for Opel previously. However Scheider has not won a race since 2010 – and admits he is hoping for further success to come in the future with Audi.
"The dream with Audi can continue," admitted Scheider. "It's been my wish to keep driving for Audi and it's a nice feeling to continue to enjoy the brand's trust after so many years. I'm hoping for us to have many more successful years together."
Audi's Head of DTM Dieter Gass added that it was important for the team to head into the forthcoming season with the strongest driver-line up possible to defend the title it took in 2013.
"As our two competitors [BMW and Mercedes-Benz] are going to leave no stone unturned next year to challenge us for the title, we've got to be poised with a strong line-up that's up to the challenge," said Gass. "Having three drivers in the squad who know how to win in the DTM gives us a good feeling. And the other five cockpits will be filled with strong drivers too."