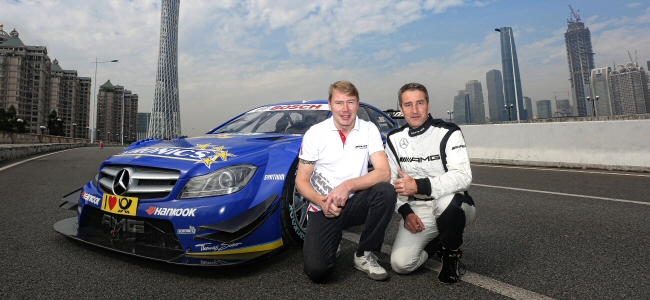 The Deutsche Tourenwagen Masters organising body, ITR e.V., has today announced that the series' anticipated return to China in 2014 will take place on a street circuit in the south China metropolis.
It was already announced in October that the German series was to return to China, having held two races previously in the country in 2004 and 2010. However both previous races in China have taken place in Shanghai, with today's announcement marking the first appearance elsewhere in the country.
The announcement has been made in conjunction with the Chinese Brilliant Culture Group, with the race scheduled to take place between the 26th and 28th September 2014.
"I'm delighted that we succeeded – in cooperation with our Chinese partners – in finding the suitable area for a spectacular street circuit that will host the DTM race in September 2014," said Hans-Werner Aufrecht, ITR Chairman. "In our previous races in China, we didn't deliver on the top level and therefore, it's about time for us to provide top motor racing in China, too. I'm convinced that we will be able to do so and thrill the Chinese motor-racing enthusiasts."
Maggie Ip, Chairwoman of the Brilliant Culture Hroup Co., added that Guangzhou province was chosen due to the strong passion for motorsport in the area, with Macau and Hong Kong located nearby.
"I'm looking forward to seeing DTM race on the streets of Guangzhou in 2014," added Ip. "We wanted to race in Guangdong province because the people there have a good understanding of, and have developed an unrivalled passion for motorsports. Guangdong is also close to Hong Kong, and motorsports fans there will come to Guangzhou to experience DTM."
Former DTM Champion Bernd Schneider attended an AMG event in Guangzhou in order to promote the event and view the proposed circuit.
"I think it's great that the DTM will be returning to China next year to a new venue in the South," said Schneider. "I had a first look at the planned circuit. It looks impressive with a combination of fast parts and slow corners and should be challenging for the drivers when they race there in 2014.
"From my experience racing in China has always been very special. I think Guangzhou is the right place for the DTM to return to China," added Schenider.
Schneider was joined by former DTM racer Mika Häkkinen in Guangzhou, with the Finn adding: "The DTM is definitely one of the world's premier racing series and is very much on track with the international expansion into China planned for next year, which will increase its popularity."
The previous events in 2004 and 2010 were both won by Gary Paffett, with the 2004 event being run as a non-championship event in the middle of the season and the 2010 event marking the season finale.