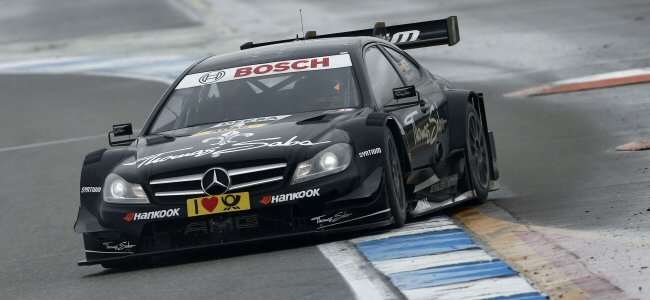 Mercedes-Benz's Roberto Merhi admits that he was pleased to see rain on raceday in the Deutsche Tourenwagen Masters finale at the Hockenheimring, which helped him to take his first podium in the series.
Merhi endured a difficult qualifying day on Saturday, as he has done for much of the season, qualifying down in 21st.It meant that the Spaniard would start from the back for the sixth consecutive race, and the sixth time overall in 2013.
A jump start at the beginning of the race did not help matters for the Spaniard, who had to serve a drive-through penalty as a result. However a fantastic strategy by his HWA team elevated the youngster to ninth by lap ten and after the first round of pit stops were complete Merhi found himself sitting in second position, fighting for the lead.
Merhi was overtaken for the lead of the race by Timo Glock with just six laps remaining, but held on to score his best result in two seasons in the DTM.
"My race didn't get off to a good start: the car rolled forward off the line and I got a drive-through penalty," said Merhi, 22. "But after that, I just went flat out. Also, our strategy worked well. I had an exciting battle with Timo Glock for the race win. After my first mandatory pit stop, I was a bit slower than Timo, but after the second, we were both very fast."
Merhi admitted that the wet weather played into his hands, allowing him to use strategy to his advantage after another dismal qualifying session.
"When I woke up this morning and saw that it was raining, I had to smile, because I knew that, even from 21st on the grid, I was capable of getting a good result, and that's precisely what happened," admitted Merhi. "Now I'm looking forward to next year and – hopefully – to more podiums."
The Spniard, like Glock, dedicated his first podium in the DTM to fellow former racing drivers María de Villota and Sean Edwards, who both lost their lives in the past two weeks.
"I would like to dedicate this second-place finish to the late María de Villota, whom I knew very well, and also to Sean Edwards who so tragically lost his life last week."