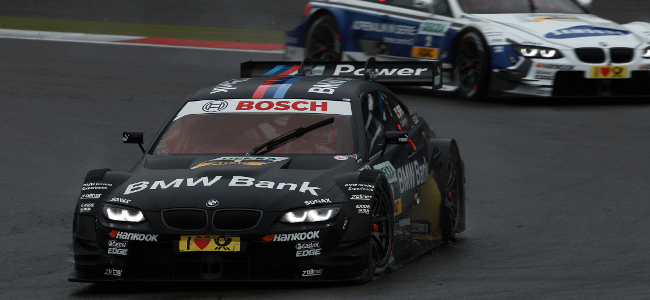 Bruno Spengler has praised the fans that turn out at the Motorsport Park Oschersleben as the 2012 DTM Champion prepares for the 8th round of the 2013 campaign.
The BMW Team Schnitzer driver had an almost perfect weekend at the circuit in 2012 as he secured Pole Position and then took a dominant victory.
He is looking forward to returning to Oschersleben and he describes the 3.7 kilometre circuit as a challenge.
"I really like the circuit and led from start to finish there last year. The fans in Oschersleben are unbelievable. You feel like you could reach out and touch the enthusiasm the fans in this region have for motorsport," explains Spengler, who is the top BMW driver in the Championship.
Speaking about the circuit, which features a 90 degree first corner and a tricky chicane out at the back of the circuit, he added: "The track is a big challenge for both us drivers and the cars. It will not be easy to find the right setup. However, we are more than happy to take on this challenge. I am looking forward to the race."
Dirk Werner, teammate to Spengler at the Schnitzer team secured his best result of the season at his home circuit – he used to live near the circuit in Kissenbrück.
Ahead of the 2013 race at Oschersleben, Werner finds himself ninth in the drivers' Championship with 26 points and he believes that it won't be easy to defend a position this year.
"Fourth place in Oschersleben was my best result of the season last year," he said. "The whole weekend went well for me, as I also made it through to the top-four shootout in qualifying.
"It is something of a home race for me, as Oschersleben is not far from where I used to live in Kissenbrück. Because of this, there will be a lot of friends and familiar faces at the circuit. The track is technically demanding. It will not be easy to hold your ground there."
Charly Lamm, Team Principal for BMW Team Schnitzer is hoping that the trip to Oschersleben will prove more fruitful than the previous round at the Nürburgring.
"After the difficult race last time out at the Nürburgring, we are looking forward to the next round of the DTM in Oschersleben," explains Lamm. "The "Motorsport Arena" features a diverse range of corners in a very tight area. The many changes in direction demand a good rhythm from the drivers. It is also important to take the high kerbs into account when finding the ideal racing line.
"Last year we enjoyed a well-nigh perfect weekend in the "Motorsport Arena". We had a fantastic team result, with Bruno Spengler winning and Dirk Werner coming home in fourth. However, the conditions are very different this year, thanks to the option tyres and DRS. However, we will do our very best and go all out on the attack again," he concluded.