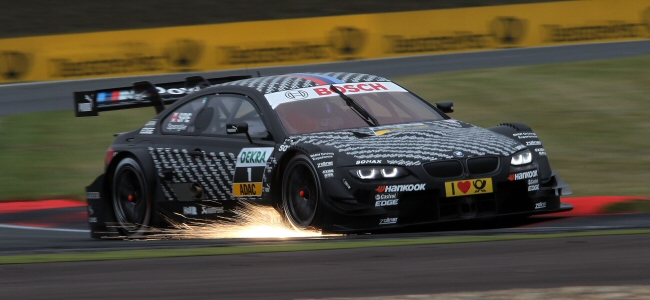 BMW's reigning DTM champion Bruno Spengler has been given a two-place grid penalty for the next race at Zandvoort following his clash with fellow Canadian Robert Wickens in the race at Oschersleben.
Spengler was battling with Mercedes' Wickens on lap 38 for 11th position when the duo made contact at turn one, with Wickens bumping into Spengler as he made a pass. The duo ran side-by-side through the Hotel bend, before Spengler made a late lunge to re-pass Wickens at the following corner, pitching the Mercedes into the gravel.
Spengler's bonnet flew off immediately following the incident, with the Team Schnitzer driver retiring due to the significant front-end damage to his car. Wickens also retired to the pits a lap earlier with damage to the left-rear of his car.
Spengler explained that he was foced to drive extra defnesively during the race due to problems with the set-up of his car.
"We had problems with the balance of the car in today's race," explained spengler. "I was not quick enough and tried to defend. The collision with Robert Wickens was unfortunate. I was on the inside, he was on the outside. He tried to pull in and unfortunately we collided. I had obviously hoped for a very different result."
Wickens, however, felt that the blame for the incident lay with Spengler. The Canadian had endured a difficult start to the race and felt he was on the ascendancy when the incident with Spengler occurred.
"I got off to a good start, but unfortunately, was forced onto the grass whilst still on the straight," said Wickens of the start of his race. "My race went very well actually after that, and I was heading for the points. Then there was the incident with Bruno. I think the TV footage says it all. I'm sorry for my team, but we're looking to the future now and we'll try to secure a better result in Zandvoort."
The stewwards of the meeting apportioned blame for the incident on Spengler and gave him a subsequent two-place grid penalty for the next race.