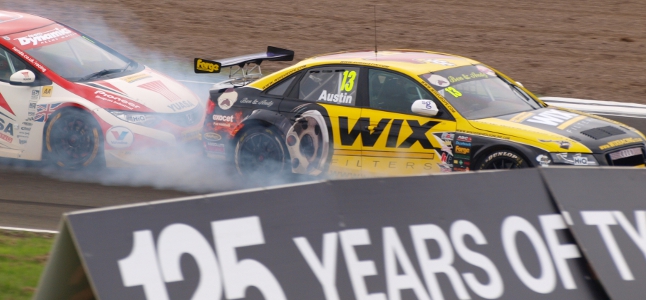 The British Touring Car Championship has confirmed that Dunlop will continue as the official tyre supplier for the next few seasons.
The deal – which has been confirmed as a multi-year contract – means that the sole-supplier partnership, which started back in 2003, will continue and Dunlop will continue to be involved in the BTCC from 1958, the first year of the series.
"Dunlop have been our tyre-supplier since 2003 – and certainly wouldn't still be today unless they were a responsive, enthusiastic manufacturer of the highest quality race tyres," explains BTCC Series Director Alan Gow.
"Our partnership has been incredibly close and mutually rewarding….to be honest, the BTCC just wouldn't feel the same without the great team at Dunlop Motorsport supporting us and we are delighted to extend our partnership further."
2013 saw Dunlop introduce their Sport Maxx Soft tyre into the series to offer a strategic challenge for all of the NGTC runners as they have to run the Soft tyre for one of the three races – apart from the Thruxton weekend – alongside the Sport Maxx Medium tyre.
Dunlop also provides the Sport Maxx Hard Tyre for Thruxton and BluResponse Wet Tyres for the inclement conditions.
The strategic challenge of deciding when to run the soft tyre over a race weekend has been well accepted by both the trackside spectators and by all of the teams.
"The BTCC is one of the most prestigious and important championships in Europe," adds James Bailey, Motorsport Communications and Marketing Director for Dunlop Europe.
"We are delighted to be re-appointed as Official Tyre Supplier. The introduction of the Dunlop Sport Maxx Soft option tyre has introduced a new strategic variable, and shows our continued commitment to innovating in this Championship, following the introduction of RFID tyre tagging in 2009 and the development of the New Generation Touring Car tyre in 2010," he concludes.
The Medium and Soft Dunlop tyres are back in action at Silverstone over the 28th/29th September, with Andrew Jordan leading the way in the 2013 BTCC Drivers' title race.