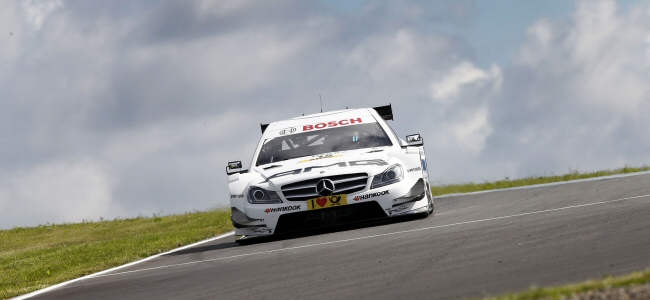 Mercedes-Benz drivers Pascal Wehrlein and Daniel Juncadella were left frustrated by the stewards during DTM qualifying in Moscow, as both drivers felt that they had been unfairly penalised for exceeding the track limits.
Wehrlein, 18, was initially penalised when he had his best lap time in Q2 disallowed for having all four wheels off the circuit. Whilst this decision was later reversed at the last minute to allow the young German into Q2, Wehrlein feels that it had already disadvantaged him as he was foced to hurriedly get back into his car to continue in qualifying.
"I was quick in Q2 and was placed third, however, the stewards thought that I had left the track with all four wheels on this lap," explained Wehrlein, from Baden-Württemberg. "That was not the case and I was pleased when the decision was reversed and I went through to Q3. However, I'd already got out of the car when the news came through. Then I had to quickly climb back in, but my concentration just went out of the window.
"Being focused is paramount, especially in the DTM, when hundredths of a second are obviously quite crucial. But many things are still possible starting from eighth place tomorrow. DRS in particular will play an important role in Sunday's race."
Fellow Mercedes DTM rookie Daniel Juncadella was also penalised by the stewards, although the Spaniard did not have his decision overturned like his team-mate. The result meant that he qualified in ninth, narrowly missing out on his best-ever qualifying performance in the series. Juncadella was adamant that the stewards had got it wrong.
"My qualifying was good – I was especially quick in Q2," said Juncadella, 22. "Unfortunately, I made a mistake in Q3 at the first turn and my lap was scrubbed as a result. My last lap in Q3 was also voided, but I honestly don't see why. As far as I'm concerned, I did not leave the track. But that's just the way it is.
"Of course, I was expecting more after my strong showing in Q2, but now I'm looking forward to the race tomorrow. I'm always fast in the race. Hopefully, we can repeat the success of the Norisring and secure a place in the top five."