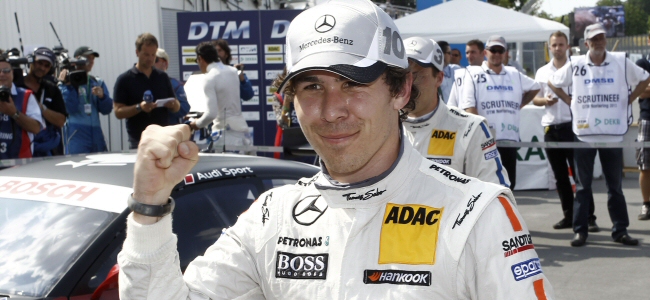 Mercedes' junior Canadian driver Robert Wickens has admitted that he was 'speechless' after learning about taking his first DTM pole on the streets of Nürnberg at the Norisring.
Wickens, 24, took his first pole position in the German series by defeating fellow Canadian Bruno Spengler by 0.059 seconds. Afterwards, Wickens admits that he did not immediately know that he had pole due to radio silence.
"I knew that my lap was strong, but I wasn't sure if my lap time would be enough for pole," said Wickens. "As I was getting out of the car, I couldn't hear anything on the radio, but Gary came up to me and said: 'Excellent, P1'! At first, I was speechless. I didn't know what to do.
"Now I'm going to concentrate on getting off to a good start, and hopefully things will carry on like this tomorrow. When you start from pole, you obviously want to finish on the podium."
If Wickens was to end up with a podium result on Sunday it wouldn't be his first in the DTM, with the Mercedes youngster having secured his first in the series at Brands Hatch back in May when he finished third. Now, with the Norisring being where he scored his first points in the DTM in 2012, he wants to follow up with an even stronger result in 2013.
"The Norisring is a very special circuit for me because I scored my very first DTM points here in last year's race, and now it's the place where I secured my first DTM pole position," added Wickens. "That's a fabulous feeling."
Mercedes-Benz Head of Motorsport Toto Wolff praised Wickens performances, adding that they vindicated the marque's decision to go with a more youthful line-up for 2013.
"Today went perfectly for us," said Wolff. "Robert is in pole position the first time in his DTM career and five of our six drivers are in the Top 10 – that's a great team result. Our strategy of giving young drivers a chance is being repaid ever more handsomely as the season progresses. Robert appears to be in the swing now. We have always known that he has the speed, but now he is beginning to convert his form into top placings."