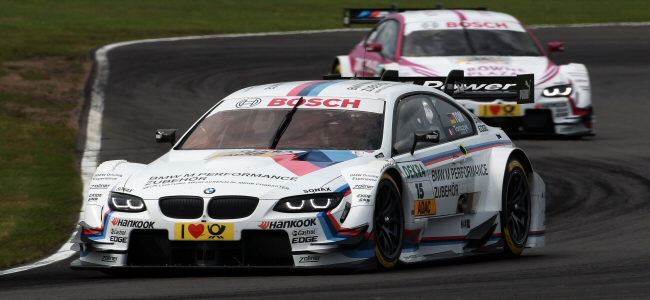 BMW Team RMG are aiming to get their season back on-track at the Norisring this weekend as the Deutsche Tourenwagen Masters makes its annual trip to Nürnberg for its only street race on the calendar.
Neither 2011 champion Martin Tomczyk or ex-WTCC racer Andy Priaulx have scored any points thus far in 2013 – with only three other drivers also having failed to get on the board. Both drivers are aiming to step up their game at this weekend's street race, especially as both drivers delivered strong performances during the race in 2012.
RMG Team Principal Stefan Reinhold explains that the Niederzissen-based team have been working hard in the month since the previous event to get to the bottom of the team's 2013 woes.
"We are really looking forward to the Norisring," said Reinhold. "We used the break to clear our heads, work hard, and to finally put together all the pieces at the end of the first half of the season. Martin Tomczyk finished runner-up in difficult, wet conditions in 2012. Andy Priaulx also finished in the top ten, coming home seventh. That shows how comfortable our drivers feel at the Norisring. As such, everything should hopefully fall into place at last."

Tomczyk, who has never won at the Norisring but scored podiums in 2012 and 2011, is looking forward to the event. "The Norisring weekend is always one of the highlights of the year," said the German. "It is the only city circuit on the calendar and DTM races have a long tradition there.
"At first glance the track looks easy, but it is not. It may only have four corners, but they are quite difficult to get right – generally speaking, the circuit is very bumpy. I am really looking forward to seeing a lot of BMW fans who will once again make the race a fantastic experience for us drivers."

Priaulx finished seventh in his first participation at the Norisring in 2012 and hopes his love of street circuits will enable him to lift himself off the bottom of the championship standings this weekend.
"I just love street circuits," said the 39 year-old. "Macau is my all-time favourite track, but the Norisring is a great substitute. The more difficult a track is the more I enjoy my racing.  It is also nice to go back to a track where you had a good result, as I did in 2012 at the Norisring. I can hardly wait to get back in the car."