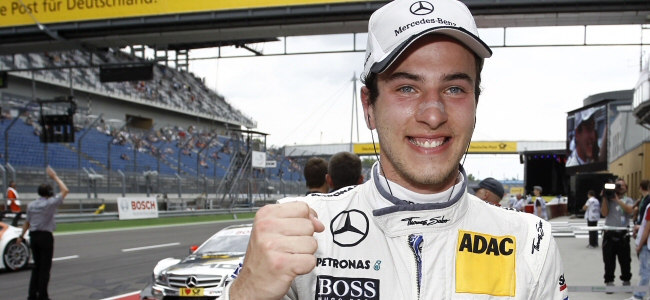 Mercedes-Benz's Christian Vietoris has admitted that taking pole position has been the "most emphatic" way to respond to criticism about the marque's recent qualifying woes, as he took his first-ever DTM pole at the EuroSpeedway Lausitz.
Vietoris, 24, scored his first-ever pole position in the German series by beating team-mate Gary Paffett to the top by 0.225 seconds. In his third-season of competing for Mercedes in the DTM, Vietoris admitted that it was the perfect way to respond to recent criticism about the team's poor single-lap pace.
"We've had a difficult start to the season and have taken a lot of criticism in recent weeks," said Vietoris, who is from Gerolstein in western Germany. "Today, we answered back in the most emphatic way possible with a strong team performance in qualifying."
With the team having fought back from recent qualifying woes to produce strong race pace, including a 13th to third drive from Robert Wickens at Brands Hatch, Vietoris is particularly confident ahead of Sunday's fourth race of the season.
"I personally tried to ratchet it up even further in Q4, and I managed to do that. When you look closely at the recent races, you'll see that we have consistently been stronger on the Sunday than on the Saturday. Our objective was to get nearer the front of the grid here. Bearing in mind that we just drove with our normal setup, I am expecting us to be strong again tomorrow.
"Obviously, you never know how the race will develop, especially with the new option tyres, but I'm hoping that we can stay out in front and that I can secure my first ever DTM race win. It won't be easy, but of course, everyone who starts from the front aims to stay there."
Head of Mercedes' DTM Management Wolfgang Schattling, who is standing in for Toto Wolff this weekend, admitted that the strong performance of his team in qualifying was down to recent testing and the nature of the Lausitzring circuit suiting the AMG cars.
"Today, everything went just right, and I'm absolutely delighted that we have had such an excellent all-round result," said Schattling. "Gerhard Ungar [HWA's chief technician] and our whole team have just completed two weeks of intense work.
"There are two factors that should be taken into account: we have tested extensively here at the Lausitzring, and the data we have compiled has come in very useful.
"Secondly, the Lausitzring has traditionally been a circuit where Mercedes-Benz has performed well, and we have registered a considerable number of victories here. So the basic conditions were already there, and when you're really on song, that's when top results like this become achievable."