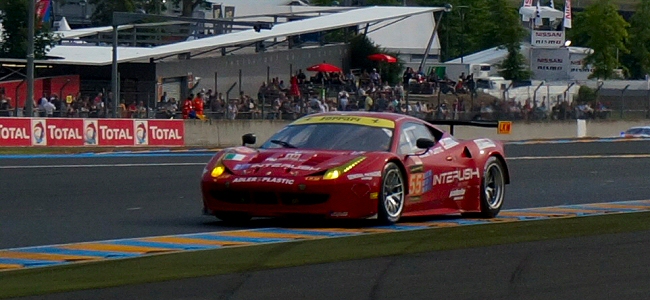 Regular World Touring Car driver Darryl O'Young finished second in class in the 2013 Le Mans 24 Hours race at the wheel of the AF Corse Ferrari 458 Italia with Lorenzo Casè and Piergiuseppe Perazzini.
Taking the wheel for the opening stint of the race, Hong Kong driver O'Young made steady progress from tenth on the grid. The 33 year-old was up to second in class by the end of the second hour, before handing over to his team-mates.
O'Young was delighted with the whole experience of racing in the famous endurance classic.
"This week at the Le Mans 24 hour was truly amazing," said O'Young. "It is the biggest Endurance race in the world and the 250,000 spectators at the event created an amazing atmosphere. We focused on having a very clean race as 24 hours is a very long time.  The #55 INTERUSH AF Corse Ferrari 458 Italia was prepared perfectly by the team and it ran faultlessly. My team mates Perazzini and Case' drove very well and it was a pleasure racing together with them."
The team had been running in the lead of their class by the fifth hour of the race but problems during one of the many safety car periods cost the team valuable time.
"Unfortunately, we had some bad luck under the safety car which threw off our strategy and cost us 3 minutes," explained O'Young. "This deficit proved extremely hard to overcome as over the next 17 hours, this gap help all the way to the end of the race.  It was an intense fight and we all drove to the maximum each and every lap but we couldn't close to the leaders."
Following the tragic death of Danish driver Allan Simonsen in a crash within the first fifteen minutes of the race O'Young paid tribute to his friend and rival.
"This race was also very difficult with the passing of my friend Allan Simonsen in the race," added O'Young. "His accident was very unfortunate and my thoughts and prayers are with his family, friends, and team mates."