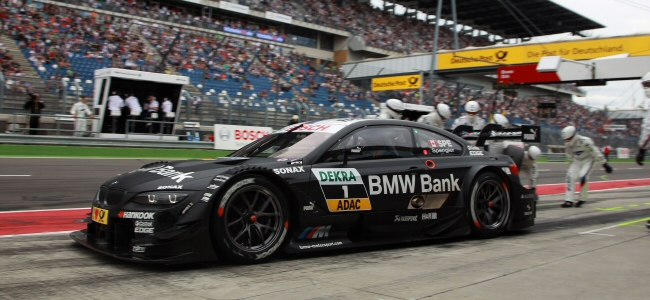 BMW drivers endured their worst weekend since the manufacturer retured to the DTM at the EuroSpeedway Lausitz on Sunday, as only Team Schnitzer's Bruno Spengler was able to score points.
BMW struggled for pace throughout the weekend, with only Spengler posting a top ten time in practice. During qualifying the Canadian was joined by Team RMG's Augusto Farfus inside the top ten, although the Brazilian started the race from 15th after he was given a penalty for using the wrong tyres in practice.
Many had expected the manufacturer to bounce back in Sunday's race just as Mercedes' had done at Brands Hatch after a poor qualifying performance. However there was little to celebrate at the end of the day, after Spengler salvaged seventh having started in fifth.
"We are obviously not happy with this result," admitted BMW Motorsport Director Jens Marquardt. "It is in stark contrast to our magnificent one-two-three in Spielberg a fortnight ago.
"The problems in yesterday's qualifying meant we started the race from poor positions. Unfortunately the modifications we made to the set-up prior to qualifying, which we were unable to change before the start of the race due to the new Parc Fermé regulations, did not pay off for us. Bruno Spengler's seventh place was a successful case of damage limitation."
Team Schnitzer's Principal Charly Lamm added that he was surprised that none of the BMW drivers were able to come back in the race. Spengler's seventh means that he remains in the lead of the championship, albeit tied on points with Audi's Mike Rockenfeller.
"After qualifying it was clear to us it would be a difficult race," said Lamm. "I was surprised at just how tough it turned out to be, however. The positive thing is that we were able to score some points with Bruno Spengler. Dirk Werner finished a respectable 13th after his spin in the chaos at the start, when he was shunted by an opponent. However, we were obviously hoping for more."
Top-placed driver Spengler scored his worst finish in the DTM since the season finale in 2011, discounting retirements. Spengler was also left frustrated with Audi's Mattias Ekström, with whom he was battling hard in the final laps of the race and ultimately beat by just 0.029 seconds.
"That was a tough weekend for me," admitted Spengler. "The opposition simply did their job better than us this time. You have to acknowledge that – we were hopeless in Saturday's free practice. Despite this, my team managed to continuously improve the car ahead of qualifying and the race.
"Towards the end of the race, I had to fight hard for my position, and Mattias Ekström pushed me from behind a couple of times. Obviously I wasn't too happy about that. However, we talked about it after the race and as far as I am concerned the matter is settled – you have weekends like that."