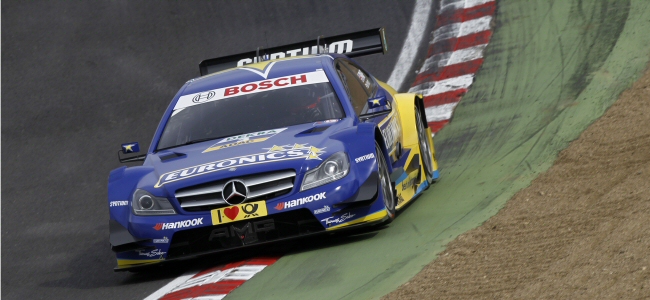 Mercedes-Benz Head of Motorsport Toto Wolff admitted that the manufacturer's performance in qualifying for the Deutsche Tourenwagen Masters at Brands Hatch was simply not good enough, after Gary Paffett ended up as their best driver in 12th.
A difficult qualifying session for the three-pointed star saw only two Mercedes drivers, Paffett and his HWA team-mate Robert Wickens, progress through to Q2.
Indeed such was the lack of pace in the C-Coupé's around Brands Hatch that three Mercedes occupy the last three positions, with Roberto Merhi, Pascal Wehrlein and Daniel Juncadella qualifying in 20th to 22nd respectively.
"Well, putting things in a nutshell, we had quite an unfortunate day and our performance in qualifying was definitely not good enough," admitted Wolff. "On such a short track like Brands Hatch, drivers are normally very tightly bunched, and of course, one must always bear in mind the actual set up that was dialed in – and as we speak, Sunday's weather forecast does not rule out rain – but that by no means fully excuses today's poor performance."
Wolff added that despite the poor qualifying performances, the fact that Dirk Werner was able to go from the back of the grid to a podium finish in the season opener shows that all is not lost. Indeed Mercedes took victory at the circuit in 2012, with Paffett taking his second win of the season.
"Now we will have to make the most of the situation and mount an all-out offensive on Sunday," added Wolff. "Dirk Werner proved at the start of the season in Hockenheim that it is possible to go from 20th on the grid to finish on the podium. Saturday was not good enough, but that does not mean that we have completely given up hope for Sunday."
Paffett added that he was not entirely disappointed with the set-up of his car, and noted that the field is incredibly close around the 1.9 km circuit. The entire field were covered by less than half a second in Q1.
"Qualifying was a big disappointment," said Paffett. "I took pole position last season and went on to win the race – I would've liked to repeat that result this year. The balance of the car did not feel too bad, it was alright. I had no major understeer nor oversteer, but unfortunately, we were not fast enough. On this short circuit, three tenths of a second make a big difference."