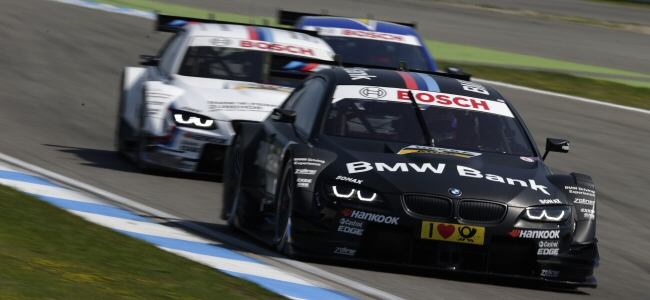 BMW Team Schnitzer head to Brands Hatch for this weekend's second round of the 2013 Deutsche Tourenwagen Masters 'fired up', after drivers Dirk Werner and Bruno Spengler finished second and fifth in the season opener.
Both reigning champion Spengler and his team-mate Werner are expecting the race to be difficult, with qualifying having an increased importance around the circuit in south-east England. Although the new DRS and option tyres improved overtaking around the modern Hockenheimring grand prix circuit, it is unclear how effective they will be around the short Brands Hatch Indy circuit.
"The circuit is really short," admitted Spengler. "For that reason, qualifying is very important at Brands Hatch. Only those right at the front of the grid have any chance of a top result. In the past, there have only been a few overtaking opportunities.
"Maybe, with the introduction of the new option tyres and DRS it will be a different story this season. After finishing fifth at the opening race in Hockenheim, I am fired up ahead of the second race."

Werner, 31, scored his best-ever DTM result in the season opener and is hoping to continue his strong form. The German showed strong pace in qualifying in his début DTM season in 2012, although he was only able to finish last year's race at Brands in 16th after a bad qualifying run saw him start the race in 19th.
The Hanover racer admits that securing his strongest result in the season opener has filled him with confidence for this weekend's race.
"Second place in Hockenheim has obviously given me a lot of confidence," said Werner. "That was the perfect start to the new DTM season for me. However, as nice as that success was for me, we all start from scratch again at Brands Hatch.
"I go into the race with the same goals and expectations as ever. I will do my very best again in Britain, and try to come away with a good result. That won't be easy, as qualifying is extremely close on the short circuit. Every thousandth of a second counts. We'll just have to wait and see what happens."

Schnitzer Motorsport's Team Principal Charly Lamm admits that the DTM's new-for-2013 innovations are still an unknown quantity on the short Indy circuit.
"The circuit at Brands Hatch is obviously very special," explained Lamm. "We have good memories of the track, thanks to Bruno Spengler's second place last season. It still remains to be seen what effect the option tyres and DRS will have over the short laps, however we will be well prepared. Bring on Brands Hatch."