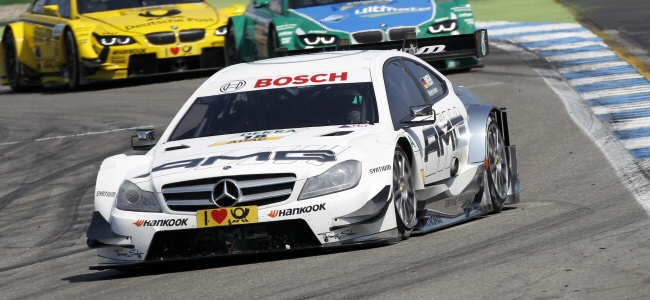 Mercedes-Benz's two rookies in this season's Deutsche Tourenwagen Masters, Pascal Wehrlein and Daniel Juncadella, enjoyed a solid, if unspectacular, début in the German series at the Hockenheimring.
Wehrlein, 18, finished just outside the points in 11th, despite at one stage having led the race. The former Formula 3 Euro Series racer had led the race between laps 9 and 25 before his first pit-stop, ultimately losing out in a race filled with strategy. In doing so, Wehrlein became the youngest driver to lead a lap in the series, as well as being the youngest driver in its history.
"I'll be leaving Hockenheim with mixed feelings," admitted Wehrlein. "On the one hand, I led the race for several laps on my very first outing, which must count as a big success; on the other hand, I was starting to think that I might get a better result.
"The first stint of the race went really well on the soft tyres, but when I switched to the harder compound, the car didn't feel as good as it had before. We now need to analyse the reason for that. Even so, it was a good performance to almost finish in the points on my DTM debut."
Spaniard Juncadella, 21, finished just behind his fellow rookie in 12th position, having damaged his car half-way through the race. The reigning Formula 3 Euro Series champion – he beat Wehrlein to last year's title – was pleased with his début, despite finishing last of the Mercedes' drivers with a best lap half a second slower than his younger team-mate.
"I'm well satisfied with my DTM debut," said Juncadella. "The main thing was to see the finish line and so to get as much experience as possible. I'm pleased to say that I managed to do that.
"The result could have been better, but I drove over a kerb, which didn't do my car any good. However, mistakes of that kind are all part of the learning process and have to be expected on your first outing. I'm going to work hard on my driving and try to learn the lessons from today in time for Brands Hatch."