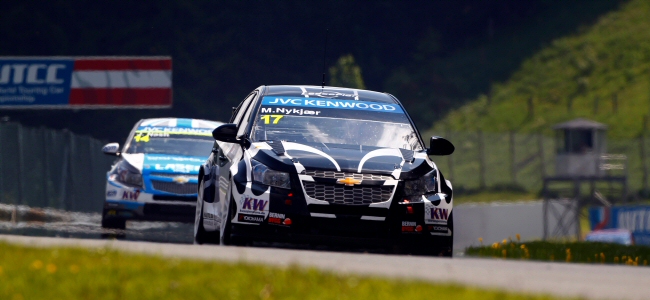 Dane Michel Nykjær and Brit James Nash will share the front row of the grid for Round 9 of the World Touring Car Championship at the Salzburgring, after a plethora of penalties were applied post-qualifying.
Nykjær originally qualified in fifth, whilst Nash was originally tenth. The duo are promoted to the front row of the grid after they were the only two drivers from Q2 who were not penalised following the sport's most farcical qualifying session.
Occupying the second row of the grid are Proteam's Mehdi Bennani and LADA's Mikhail Kozlovskiy – with the young Russian scoring his and his team's best-ever starting position in the WTCC as a result.
Following the qualifying debacle, WTCC promoter Marcello Lotti hit out at the drivers for going so slowly, all because they did not want to be the driver leading the pack and providing a slipstream to those following.
"There is an article in the International Sporting Code that says it is not permitted to drive too slowly and without any reason – reason means a technical reason or a yellow flag," explained Lotti. "This is what happened; all those drivers were driving around the track at 46kph. It's really too slow!
"There will be no changes to the Race 2 reverse grid as all the penalties refer to Race 1. Some journalists have criticised the track and said that in some way the track was at fault. Absolutely not – the track layout is perfect and is probably the best of the traditional touring car circuits. In any case, the track is fully licenced by the FIA."
The full Round 9 grid:
POS
DRIVER
ORIGINAL
PENALTY
FINE
1.
Michel Nykjær
5th
None
None
2.
James Nash
10th
None
None
3.
Mehdi Bennani
13th
None
None
4.
Mikhail Kozlovskiy
14th
None
None
5.
Fredy Barth
15th
None
None
6.
Franz Engstler
16th
None
None
7.
Marc Basseng
17th
None
None
8.
James Thompson
19th
None
None
9.
Charles Kaki Ng
20th
None
None
10.
René Münnich
21st
None
None
11.
Fernando Monje
22nd
None
None
12.
Alex MacDowall
4th
+8
€3,000
13.
Yvan Muller
1st
+12
€3,000
14.
Rob Huff
3rd
+10
€1,000
15.
Tom Chilton
2nd
+12
€3,000
16.
Stefano D'Aste
11th
+5
€1,000
17.
Darryl O'Young
18th
+5
€1,000
18.
Pepe Oriola
8th
+16
€6,000
19.
Tom Coronel
12th
+15
€4,000
20.
Hugo Valente
23*
+5
€3,000
21.
Gabriele Tarquini
6th**
+24
€6,000
22.
Tiago Monteiro
7th**
+12
€3,000
23.
Norbert Michelisz
9th**
+12
€3,000
* All qyalifying times were disallowed for technical infringement.
** All Honda drivers were sent to the back of the grid for having a non-conforming rear wing.