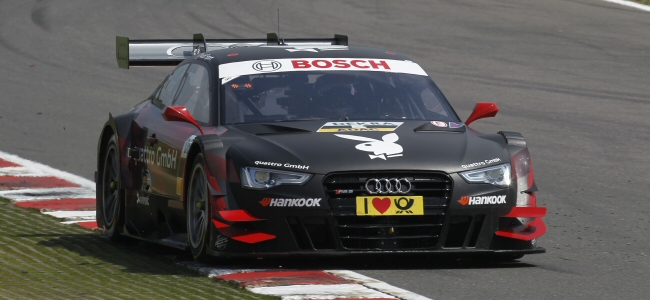 Audi Sport Team Rosberg return to the Red Bull Ring near Spielberg in Austria with 'fond memories' this weekend for the third round of the Deutsche Tourenwagen Masters having scored their first-ever DTM victory at the circuit in 2012.
Audi Sport Team Rosberg's Edoardo Mortara took his first-ever pole position at the circuit in 2012, following it up with his maiden victory in the German series. The year before, on the circuit's return to the DTM calendar after a seven-year hiatus, victory was taken by now-BMW driver Martin Tomczyk on his way to the title for Audi.
"We've got fond memories of Spielberg because we were very strong there in the past two years," said Audi Head of DTM Dieter Gass. "Especially for Edoardo this probably means additional motivation.
"We've slightly modified our car since 2012, so we're optimistic that we'll be showing a good performance again."
Italian Mortara is thus the only current Audi driver to have taken victory at the Red Bull Ring, as when the circuit was on the DTM calendar between 2001 and 2003 it was traditionally a Mercedes stomping ground. Mortara is hoping to turn his season around at the circuit this weekend, having so far failed to score a point in 2013.
"We really had two weekends to forget," admits Mortara. "But I know that I've got a good team and a good car – all we need now is a race without incidents. I see no reason why we shouldn't manage this at Spielberg. I took my first ever DTM race win there, so I've got a special relationship with this track."
Incredibly Mortara's victory at the Red Bull Ring in 2012 was the first-ever for Team Rosberg in the DTM, despite the team having competed in the DTM for 14 years. As a result, Arno Zensen, Team Director at Team Rosberg, is particularly looking forward to the event.
"At Spielberg, we won our first DTM race, so our memories are positive and we're looking forward to the race with eager anticipation," added Zensen. "Last year, the tables turned in favor of our team in Austria – I'm proceeding from the assumption that this will be the case again this year."