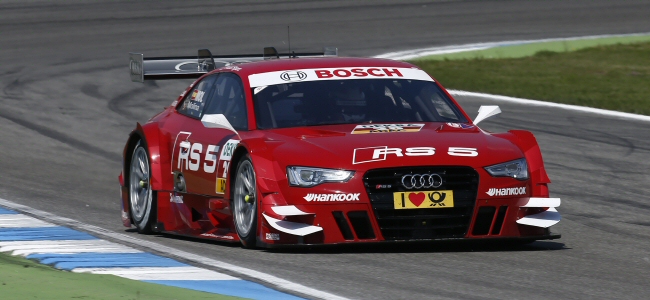 Audi personnel have admitted that the Deutsche Tourenwagen Master's new Drag Reduction System (DRS) will have a reduced effect at this weekend's Brands Hatch round of the series due to the short, twisty nature of the circuit.
With the circuit's main straight being just 650 m in length the DRS system is likely to have little effect as car's fail to reach their top speed around the 1.94 km circuit. However the DTM's new softer option tyre will still come into play, with many predicting a race once again fought using tyre strategies.
"I'm sure that at Brands Hatch we'll be experiencing a very close race," said Audi's Head of DTM Dieter Gass. "The innovations like DRS won't be playing such a role there because the straight isn't long enough. But I'm convinced that the fans can still look forward to a lot of interesting duels."
Audi Sport Team Rosberg's Filipe Albuquerque echoed Gass' comments, and added that he was expecting the option tyres to liven things up significantly on race day.
"I'm looking forward to the race at Brands Hatch," said the Portugese racer, who finished 16th at the Hockenheimring. "Until then, we're going to continue to analyze all the experiences from Hockenheim. The DRS won't help us a lot on this track but the option tires are huge fun even over a distance of barely two kilometers."
The short circuit at Brands Hatch Indy means that drivers will have to contend with 98 laps featuring traffic, differing tyre strategies, DRS, option tyres and a twisty track with no long straights. Frenchman Adrien Tambay is looking forward to the mix.
"A short track, a lot of traffic, pit stops, option tires – it'll be a tricky event," said Tambay, who drives for Team Abt. "Hopefully, after my early retirement at Hockenheim, this will be my first real race in the 2013 season."
Tambay's team-mate Timo Scheider, who sensationally took pole position last time out, is hoping to build on his difficult season opener, which ultimately saw the veteran German finish in sixth in the race. Scheider has a good record at the English circuit – taking victory in 2008 and two podiums in the following years, although he has had difficult races at the circuit for the past two seasons.
"Pole position, race victory, setbacks – I've practically experienced everything at Brands Hatch in the past few years," admitted Scheider, 34. "I'm hoping to add some more good moments this time. We're taking the things that went well at Hockenheim with us as positive energy. And all the things that went wrong we're going to do better at Brands Hatch."