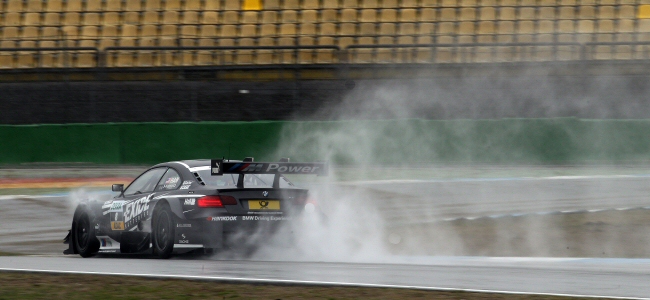 BMW's Augusto Farfus ended the final day of DTM testing with the top time, after posting the fastest time of the week at the Hockenheimring. Reigning champion Bruno Spengler was second fastest.
Click here for the full day 4 times.
By topping Friday's times, it means that 2012 champions BMW have ended the pre-season as the strongest manufacturer. The Munich-based marque has been on top in each of Hockenheim's four days of testing as well as one of the four test days in Barcelona. In contrast Mercedes topped just two days in Spain, and Audi just the one.
"The weather played a major role in this test," said Brazilian Farfus. "It alternated between rainy and dry conditions. It is always beneficial to be able to complete a few laps in the wet, of course, but we would really have preferred more consistent conditions to allow us to prepare for the new season. Despite this, the overall impression is a positive one. Although preparations for the new season were generally very short, we are on the right track with regard to the start of the season. It was a great feeling to be back in Hockenheim."
Spengler ended the day second quickest, with fellow BMW driver and DTM rookie Timo Glock third. Glock posted the fastest time of the afternoon session with a 1:33.320.
"Generally speaking, the test in Hockenheim was very positive for us," said Glock after the session. "We reeled off a lot of laps and collected informative data and reference values. It obviously rained a lot, but we should now be well prepared when we have the odd wet race over the course of the season – which we inevitably will. We also coped well in the dry. We are improving with every lap, and our pit stops are also getting quicker and quicker. I now feel right at home in the car.
"I am really looking forward to my first race. That will herald the start of a whole new chapter for me."
Audi had a more difficult end to the testing, with Mike Rockenfeller the manufacturer's top pilot in sixth. Audi drivers were also the three slowest on Friday, with Filipe Albuquerque, Mattias Ekström and Timo Scheider 9th, 10th and 11th respectively.
"The tests don't provide a genuine assessment of where you stand," said Audi Head of Motorsport Dr. Wolfgang Ullrich after the tests. "And of course we know that our competitors didn't sleep either."
The first round of the 2013 DTM takes place back at the Hockenheimring on the 4th May 2013.