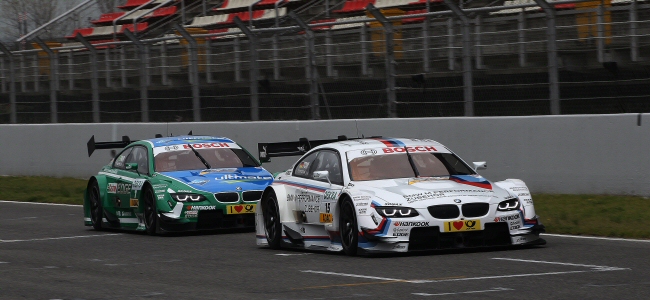 BMW Motorsport Director Jens Marquardt is pleased with his marque's pre-season preparation, admitting that the task of establishing an entirely new team, BMW Team MTEK, over the winter was particularly challenging.
Last season's champions are expanding to run eight cars in 2013 with the Munich-based BMW Team MTEK. Alongside the six drivers who competed for BMW in 2012 will be new additions Timo Glock and Marco Wittmann, who will both join the new team.
"Perhaps our biggest challenge over the winter was to assemble and integrate our fourth team, BMW Team MTEK," explained Marquardt. "Ernest Knoors' outfit had just a few months in which to prepare for the first outing. Furthermore, we at BMW Motorsport obviously had to adapt the entire infrastructure to suit four teams and eight cars."
After securing all three titles in 2012 in their first year back in the German series, BMW will face the challenge of defending their titles in the coming year with a more compact two-day race weekend.
"The reduction of race weekends to two days now poses another challenge for everyone involved. When preparing for the 2013 season, we primarily tried to improve the interplay between the mechanics in the garage, as well as the communication between engineers and crews. We strived to make the entire structure more efficient."
Marquardt added that during the recent pre-season test at the Hockenheimring BMW had tried to simulate the feel of a race weekend as much as possible.
"In order to simulate the new conditions, we erected everything just as it would be on a race weekend for the first time at the test in Hockenheim – from the pit wall to the radio network," he explained. "Generally speaking, we welcome the new race format, as we believe it will make the weekends compacter and more exciting."

In addition to the new scheduling format for 2013, Marquardt also praised the new option tyre and drag reduction system (DRS) which the DTM will adpot, following in the footsteps of Formula One.
"The option tyre was developed to make the DTM even more exciting," explained Marquardt. "It is faster than the normal tyre over the first few laps – only the race itself will reveal exactly how much faster. However, the tyre does degrade after a certain time. Even after the tests, we do not know exactly how it will behave. We will only find that out in Hockenheim when we use the tyre in a race for the first time. Even then, however, we will not be able to say exactly how it will function on the remaining circuits.
"The combination of the two changes, both the option tyre and DRS, also promises to provide some exciting moments. We endorse the use of both elements, and see them as a good decision for the sport and the fans."