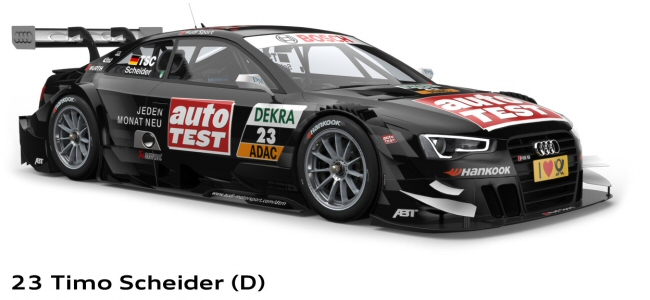 Audi has unveiled the liveries that its teams will use in the 2013 Deutsche Tourenwagen Masters, ahead of the final pre-season tests which take place at the Hockenheimring this week.
The Ingolstadt-based marque has managed to retain the majority of backers from the 2012 season, although the line-up will no longer feature a Deutsche Post-backed car – something which every manufacturer featured in 2012.
Jamie Green will drive the second Red Bull backed car – with the Austrian drinks firm once again the only company to provide title sponsorship to more than one car.
Timo Scheider may be feeling a little nostalgic about his livery, as the German once again features a red and black design – something that he also raced with during his 2001, 2002 and 2003 seasons with Opel.
"I'm proud of the diversity of our sponsors and would like to thank all our partners for supporting our DTM commitment," said Head of Audi Motorsport Dr. Wolfgang Ullrich. "Without the backing of these strong partners we wouldn't be able to be active in motorsport on this level."
All Audi drivers will be in action at the final DTM tests between Tuesday 9th and Friday 12th April at the Hockenheimring.
Audi's 2013 DTM liveries: