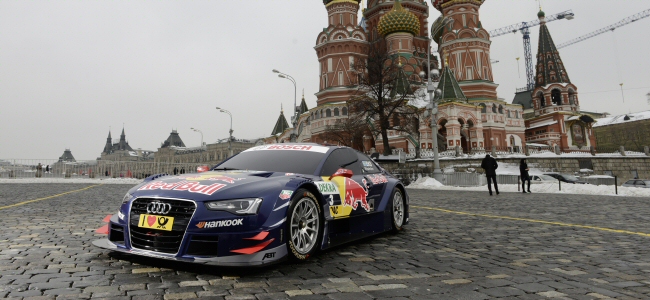 Ahead of the first-ever Deutsche Tourenwagen Masters race in Russia, Audi have become the first team to visit the important market, after sending Mattias Ekström and Edoardo Mortara to the Red Square.
The DTM will race in Russia for the first time in 2013, with a race date set for the 14th August at the new Moscow Raceway facility, which will also be visited by the World Touring Car Championship for the first time. Russia is increasingly important to car manufacturers, with Audi alone reporting a 44.1% increase in orders in 2012.
"Complementing the calendar by a race in Moscow marks a decisive step for the DTM," said Audi Head of Motorsport Dr Wolfgang Ullrich. "It's a great opportunity to present ourselves in an important market with an affinity for motorsport."
The Russian DTM round will be one of four events taking place outside of Germany in 2013 – the other important markets for the series are the United Kingdom, Austria and the Netherlands.
Ekström was positive about the first event in Russia whilst making his first trip to the country.
"The huge enthusiasm we were met with in Moscow is fantastic" said Ekström. "I always enjoy getting to know new countries and people. Right after the first day here in Moscow I'm convinced that it has been a very good decision to hold a race here. I can hardly wait to return in August."
The importance of the event in Russia is underlined by the increasing importance of motorsport in the country. Elena Smirnova, Head of Audi Russia, is pleased that a series with such international recognition will be taking place in Russia in 2013.
"Motorsport is the best forge of the brand's technologies," she said. "Now, when this kind of sport is on the rise in Russia, when professional race tracks are being built in different regions of the country, Audi is ready to show the new edges of its character. The fans of Audi here are looking forward to the beginning of the DTM series' new season. They will be able to cheer for our drivers, personally attending the stage at Moscow Raceway for the first time.
"Russia is one of the top ten markets for Audi, so today, a few months before the championship gets to our country, we are pleased to introduce the Audi A5 DTM to our fans."