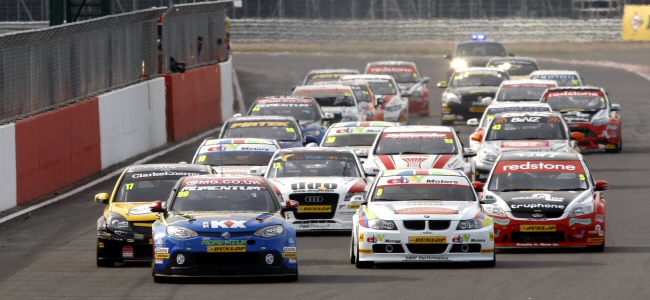 David Addison has been confirmed as the lead commentator for ITV4's coverage of the 2013 British Touring Car Championship after Toby Moody confirmed he is to return to Moto GP full time.
The 40 Year Old, who has commentated on the BTCC trackside for a number of years as well as dealing with the production of the BTCC event programmes, is looking forward to joining ITV4 for the 2013 campaign.
"I'm absolutely thrilled to be joining ITV4 for this year's BTCC," explains Addison, who will also commentate on the supporting Porsche Carrera Cup GB races.
"The championship gives the best racing in the country and that, coupled with the superb television coverage, makes it a dream job. To be working with Steve Rider, Tim Harvey, Louise Goodman and the rest of the ITV team is a huge honour and I can't wait to get started."
The Daresbury based commentator has previous experience as he has done the commentary for the Australian V8's, the DTM, Spa 24hr as well as the Le Mans 24hr and the Blancpain Endurance Series.
"The first BTCC race I saw was in 1978 and I've seen the championship evolve ever since, through multi-class races, Super Touring and now the NGTC era," continues Addison.
"All have given great racing, but 2013 also features four former champions on the grid, new tyre regulations and the promise of the best-ever season of racing. There's going to be a lot going on for Tim and I to describe, but with new cars, new teams, returning drivers, it is a challenge to relish. Roll on Brands Hatch at the end of March!"
Joining Addison in the commentary box is 1992 BTCC Champion Tim Harvey and the former BTCC and Porsche driver, who currently competes in British GT, is looking forward to working alongside Addison in the commentary box.
"I am delighted to be working alongside David this year," adds Harvey. "I have known him for many years and his knowledge and passion for the BTCC are unrivalled. BTCC fans can rest assured that the hot seat in the commentary box is in good hands."
BTCC Series Director, Alan Gow, also expresses his delight with the news that Addison is joining the ITV4 team for 2013.
"David has been an intrinsic part of the BTCC paddock for many years and we're delighted that he'll be taking up the role as ITV commentator," explains Gow.
"David is experienced and knowledgeable about motor sport and BTCC in particular, so I am sure he will hit the ground running when the series gets underway at Brands Hatch. He will do a fine job in conveying the action to the many people watching on television."