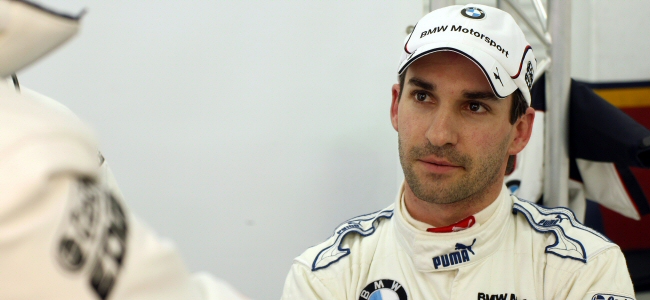 Former Formula 1 driver Timo Glock has today been confirmed as BMW's eighth driver in the Deutsche Tourenwagen Masters, after the German completed a successful test yesterday in Valencia.
Glock, 30, had been widely tipped to join the Munich-based manufacturer after his departure from F1 team Marussia was confirmed on Monday this week (21st January). The German is expected to join the newly-formed BMW Team MTEK alongside compatriot Marco Wittmann as BMW steps up to an eight car assault in 2013, having previously run six cars in 2012. However none of the BMW teams have currently confirmed their driver line-ups.
The move marks a return to BMW Motorsport for Glock, who made his name in Formula BMW and was a test driver for the BMW Sauber F1 team in 2007.
"We are delighted to have Timo Glock back at BMW Motorsport," said Jens Marquardt, BMW Motorsport Director. "Over the course of his career, Timo has proven on more than one occasion how valuable he is to any team, thanks to his driving ability and open manner. The fact that he is now returning to the BMW family six years after leaving his role as test driver for the BMW Sauber F1 Team makes this appointment all the more pleasing. I am confident Timo will take no time at all to find his feet in the DTM and will give the fans a lot of pleasure."
Glock has spent the past five years in Formula 1, competing for Toyota in 2008 and 2009, before joining Virgin Racing in 2010, which became the Marussia F1 Team in 2012. During this time Glock achieved three podium finishes, all during his time at Toyota, with his best finish being two second places in Hungary in 2008 and Singapore in 2009.
Glock himself is looking forward to a new challenge for 2013, including the opportunity to challenge for race wins and podiums, something that has been missing in his F1 career in recent years.
"It is very exciting for me to drive for BMW again after all these years – and in such a top-class racing series as the DTM," admitted Glock. "I had a fantastic time in Formula One, but am now looking forward to battling for victories again with my old friends at BMW Motorsport. That is the approach I shall be taking to the challenge of the DTM.
"I am obviously aware I will have to adapt to a few areas. Not all former Formula One drivers have found their feet immediately in the DTM. But I am using precisely that as my motivation. After winning the title in such impressive fashion last year, there can be absolutely no question that the BMW M3 DTM has everything it needs to allow us to compete at the front of the field again in 2013."
Indeed Glock is relishing the opportunity to once again be considered as a title candidate, having not taken a race win since he competed in GP2 in 2007.
"It was not always easy to spend three years in Formula One regularly watching other drivers from behind who were sometimes doing a worse job than me, but were still way ahead as they were in better cars," explained Glock. "You want to finally be back challenging at the front of the field again and are hungry for good results. This hunger became more intense over the winter. Now is the right time for me to make a change. I am really up for the DTM."
Glock's first DTM start will be at the Hockenheimring on the 5th May 2013.