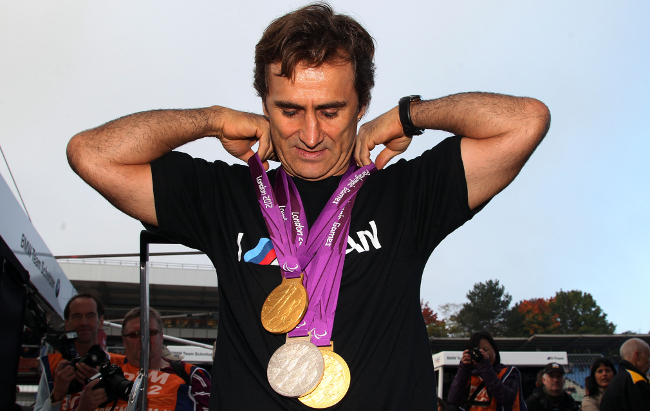 Alex Zanardi, the double Paralympic gold medal winner and former World Touring Car Championship racer is to test a BMW M3 DTM at the Nurburgring on the 8th November.
The Italian, who won two gold's and a silver medal during the London 2012 Paralympics  is looking forward to adding another chapter to his racing career, and when he tests the BMW M3 DTM, he will have his own piece of history as he becomes the first leg amputee to drive a DTM car.
"I would like to thank Jens Marquardt and all my friends at BMW Motorsport here and now for this unique opportunity," explains the winner of four WTCC races. "I always feel like coming back to my family when I'm here at BMW Motorsport. When I saw the BMW M3 DTM up close for the first time in Hockenheim, I found myself feeling like a racing driver again after all those months as a hand cyclist. It is a great honour for any driver to get behind the wheel of such a fantastic car. I will enjoy every lap."
BMW Motorsport Director Jens Marquardt is pleased to offer Zanardi the opportunity to drive one of the M3 DTM cars.
"We are delighted to offer Alessandro Zanardi this outing in the BMW M3 DTM, He has been a member of the BMW Motorsport family for many years, so we are very keen to offer him this chance to drive the BMW M3 DTM," explained Marquardt.
"We will obviously have to make a few modifications to the car. A DTM car is considerably more complex than the BMW 320si WTCC, with which Alex won on four occasions for us in the FIA World Touring Car Championship. However, our engineers happily accepted this challenge.
"Alex once again made sporting history in London. He thrilled the fans with his appearance at the race in Hockenheim, and was there in person when we sensationally completed the clean sweep of the 2012 DTM titles. He is simply a fantastic person," concluded Marquardt.