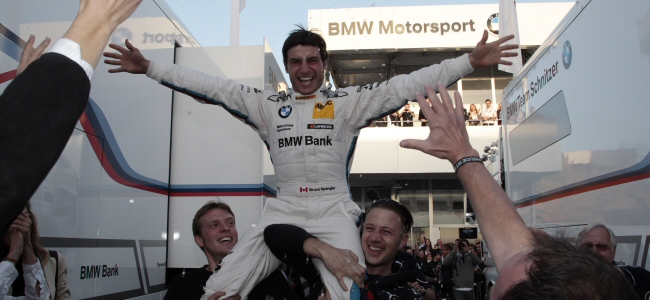 Twice a runner-up, three times in third – but not in 2012. BMW's Bruno Spengler finally took his first Deutsche Tourenwagen Masters title at the Hockenheimring on Sunday and the Canadian could not have been happier.
Spengler took the title in the best possible fashion – a straight duel with rival Gary Paffett of Mercedes in which the BMW star came out on top by taking his fourth win of the season. The result marked an incredible comeback season for BMW, in which the Munich-based manufacturer secured all three titles.
"I can hardly believe we have won the title with BMW in our first year back in the DTM," expressed Spengler, who was ever the gentleman in recognising his rival's achievements. "Congratulations to my rival Gary Paffett, who performed brilliantly throughout the entire season and put up a fair fight. He would also have been a worthy champion. He is a great sportsman. He put me under a lot of pressure in the final race today. I spent a lot of time looking in the rear-view mirror and he just kept getting closer. However, I was able to maintain my pace and close the race out. My pulse was really racing."
Having started the season in unspectacular fashion – Spengler retired from the opening race at the Hockenheimring – he went on to take four victories and six podium finishes to gradually close the gap to Paffett. The Brit had led the standings since the first race and, with four podiums in the first four races, looked to be in control of the championship until Spengler and BMW came on stronger in the second half of the season.
Spengler endured his fair share of bad luck during the season too – two non-finishes and a drive-through penalty for a false start in Valencia make his achievements in taking the title all the more impressive.
"Everything went exactly to plan today," continued Spengler. "In a race, in which we were under extreme pressure, the team did another amazing job on the pit stops. You never win on your own – only as part of a team.
"I am totally confused and have no idea how I should be feeling. Standing on the top step of the podium, raising the trophy to the sky and seeing all the many fans cheering for me is an amazing experience. I have waited for this for so many years. It is simply sensational."