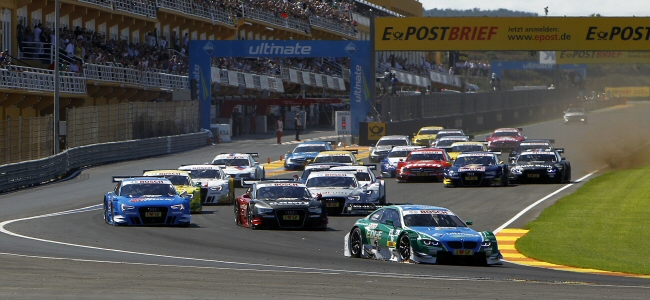 The 2013 Deutsche Tourenwagen Masters calendar has been unveiled, featuring a race in Russia for the first time. The calendar provisionally features eleven events, debuting on the 5th May at the Hockenheimring.
The new event, which is to take place at the Moscow Raceway, will be one of five events to take place outside of Germany in 2013 – although there remains a 'TBA' on the calendar which is highly likely to take place in Spain with the venue still to be confirmed.
The Moscow Raceway was inaugurated on the 13th July 2012 and is located in Moscow Oblast. The race will be the easternmost DTM race since the 2010 season concluded on the streets of Shanghai in China.
"For the DTM, the race in Moscow is an important step on the way to breaking into new markets," said the Chariman of the DTM promoter ITR e.V. Hans Werner Aufrecht. "For the series and our manufacturers – Audi, BMW and Mercedes-Benz – racing in a country such as Moscow represents a big chance of presenting themselves internationally in front of a new crowd."
The calendar features the traditional international mainstays of the German series' season, with a round in the UK taking place on the 19th May around Brands Hatch Indy and Zandvoort continuing with a summer date on the 21st July. However no venue has been given for a race in Spain, with a 'TBA' listed for the 29th September – around the same time that this year's race took place in Valencia. The DTM has raced at the Valencia circuit in Spain for the past three years and raced at Barcelona between 2006 and 2009 previously.
Notably the show-event that has taken place in the Olympic Stadium in Munich for the past two years has been dropped from the calendar. The event has previously been used as a showcase for the DTM as a non-championship event and it is for this reason that the event has been dropped, as no championship points could realistically be awarded.
The provisional 2013 DTM Calendar:
| | | | |
| --- | --- | --- | --- |
| Date | Country | Venue | Round |
| 5th May |  Germany | Hockenheimring | 1 |
| 19th May |  United Kingdom | Brands Hatch Indy | 2 |
| 2nd June |  Austria | Red Bull Ring | 3 |
| 16th June |  Germany | Lausitzring | 4 |
| 7th July |  Germany | Norisring | 5 |
| 21st July |  The Netherlands | Zandvoort | 6 |
| 4th August |  Russia | Moscow Raceway | 7 |
| 18th August |  Germany | Nürburgring | 8 |
| 15th September |  Germany | Oschersleben | 9 |
| 29th September |  TBA | TBA | 10 |
| 20th October |  Germany | Hockenheimring | 11 |