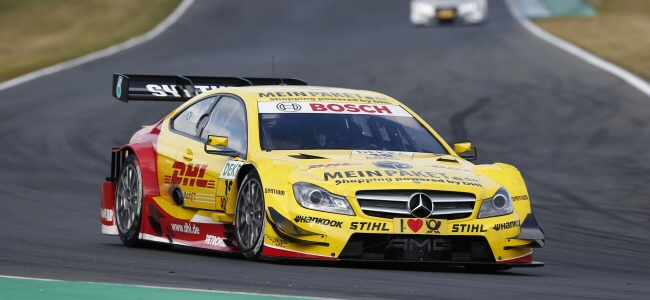 This weekend's Hockenheimring finale of the 2012 Deutsche Tourenwagen Masters will be David Coulthard's last race in the series as the Scot decides to focus on other interests in the future.
Coulthard, 41, has driven full-time in the German championship for Mercedes-Benz since the start of the 2010 season and has enjoyed three seasons in the DTM. The former Formula 1 driver has enjoyed his strongest-yet season in 2012, taking a best finish of fifth at the Norisring in June. However Coulthard has decided to focus more in the future on his commitments as a commentator for the BBC Formula 1 coverage, as well as other business commitments.
Coulthard competed in Formula 1 between 1994 and 2008, contesting 246 F1 races for Williams Renault, McLaren-Mercedes and Red Bull Racing respectively. He took 13 wins in the series, before retiring at the end of the 2008 season. For the 2009 season Coulthard took on a role as co-commentator for the BBC's Formula 1 coverage alongside Martin Brundle, which he has until now dovetailed with his DTM commitments.
"I am looking forward to the final race of what has been an exciting season in the DTM," said Coulthard, who will have competed in 31 DTM races when he ends his career in the series. "The weekend will be my final opportunity to compete at this level as I will stop racing in the DTM to concentrate on my developing off-track businesses and of course my family.
"I will continue to be part of the Mercedes family through my role as an AMG brand ambassador. I would like to thank first of all Norbert Haug and his team at Mercedes Motorsport for providing the opportunity, Deutsche Post for their support and their willingness to allow the Wings for Life Foundation to have promotional space on the car, which has helped raise awareness and funding for the research into spinal cord injuries. Thank you, as well, to the HWA and Mücke teams for patiently helping me with the transition from single-seaters to touring cars, and of course to the people who make professional sport sustainable, the fans. I have enjoyed the last three years and I wish the organizers and competitors in DTM continued growth and success with the championship."
Vice-President of Mercedes-Benz Motorsport, Norbert Haug, paid tribute to Coulthard's performances through the years, especially as an ambassador for Mercedes both during his time in F1 and more recently during his time as a Mercedes touring car racer.
"David is our first F1 winner of the modern era and that victory on 9th March 1997 in Melbourne ensures his place in our motorsport history," said Haug. "David drove successfully for us and our partner McLaren during nine Formula 1 seasons, and still today he is one of the most popular racing drivers in the world.
"David's involvement in the DTM has been good for him and for the championship – he is skilled on the race track, and eloquent and analytical in his TV work and as an AMG brand ambassador. He has been a successful member of the Mercedes family for over a decade and a half, and will remain so after his retirement from active racing. An abbreviation from the racing world best summarises what I want to say to David on behalf of everybody: TD – but this time, it stands for 'Thanks, David'."