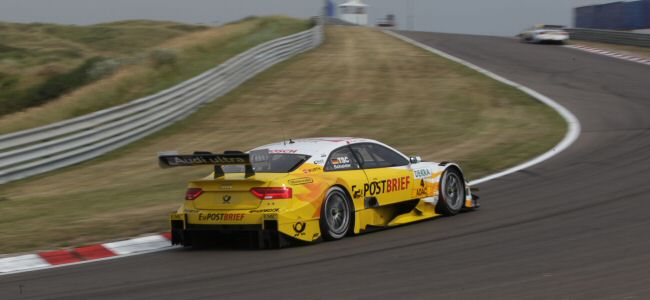 Audi's Timo Scheider was quickest in the second Deutsche Tourenwagen Masters practice session at Zandvoort in the Netherlands – with the German setting his time on slick tyres before a deluge of rain meant that no one else would be able to beat his early time.
Click here for the full second practice times.
Frenchman Adrien Tambay was second fastest – with a time also set during the early drier stages of the session.
The rain began to fall within the opening minutes of the session, result in an unusual order of times by the end of the session. Indeed the rain was so intense that within fifteen minutes of it first falling several corners had collected reservoirs of standing water, limiting the effective running by the teams.
Several drivers were unable to remain in control of their cars during the session – Audi's Miguel Molina ended up stuck in the gravel at Renaultbocht after losing control, with the Spaniard once again finishing the session as the slowest driver, having completed just 16 laps.
BMW's Bruno Spengler, who ended the session in 13th, also suffered an off at Renaultbocht, whilst Mercedes' Jamie Green, eighth quickest, had an off at Tarzan.
Current championship leader Gary Paffett ended the session sixth fastest and as the top Brit, 7.153 seconds off Scheider's initial dry-running pace.
Having finished the first session in fourth, David Coulthard was once again inside the top ten in ninth, and the Scot was among the quicker drivers in the wet conditions.
Qualifying takes place at 1340 Berlin time (1240 GMT).