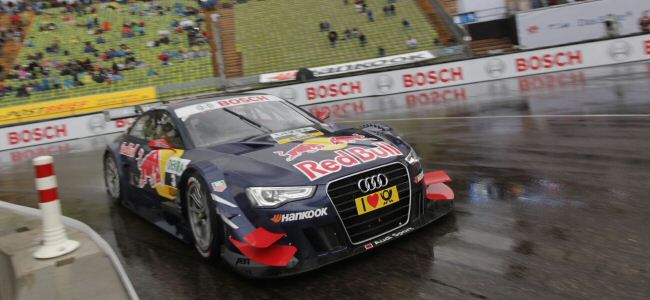 Sweden's Mattias Ekström has taken victory for Audi in the singles competition of the Deutsche Tourenwagen Master's non-championship event in Munich's Olympiastadion.
Ekström beat Britain's Jamie Green in the final in front of 45,000 fans to win the second DTM show event in the former stadium that hosted the 1972 Olympic games. Indeed it is yet another win inside a stadium for Ekström, who also has three titles at the Race of Champions to his name.
Currently fifth overall in the DTM standings, Ekström admitted that he has been yearning to stand atop the podium once again, having not taken a victory since the penultimate round in 2011.
"It's been a long time since I last stood on the very top of the podium," said Ekström. "Winning here in front of so many fans is particularly nice. I had the impression that the Olympic Stadium was pretty much in BMW's hands – but today we showed to the whole crowd that Audi's best."
The format for the event meant that the top three from each manufacturer, along with series leader Gary Paffett, automatically qualified for the round of sixteen. Heats were run over four laps for the preliminary heats and the round of sixteen, which were then increased to six laps for the quarter finals onwards. Additionally for the quarter finals onwards a mandatory pit stop was also required – something that almost cost Ekström dearly as he accidentally switched his car into idle briefly whilst leading in the quarter final.
On his way to the win inside the very wet stadium, Ekström defeated Joey Hand in the round of sixteen, Martin Tomczyk in the quarter final, Gary Paffett in the semi final and Jamie Green in the final. The final was run over two heats, with Green taking the first and Ekström taking the second with a time that ultimately took him to victory.
Second-placed Green admitted that the conditions, which featured heavy showers, had been difficult as the day progressed.
"Too bad that we didn't achieve an outright win in the final, but I'm satisfied with second place and winning the team competition on Saturday," said Green. "My first final run was good, but conditions were tough on the second run and I lost some time during the pit stop into the bargain. It was an exciting race, and the crowds braved the rain and cheered us in the stands – they deserve a special mention."
Gary Paffett and Bruno Spengler finished joint third after losing out to Ekström and Green respectively.
At the end of the day Head of Audi Motorsport Dr. Wolfgang Ullrich praised the event for its ability to reach out to a wide range of sporting fans.
"It was a very thrilling finale and a nice event that was good fun," said Ullrich. "Even spectators who weren't into motorsport very much before were able to see how exciting and captivating the DTM can be. In the end, it was especially nice that Mattias managed to win for Audi."