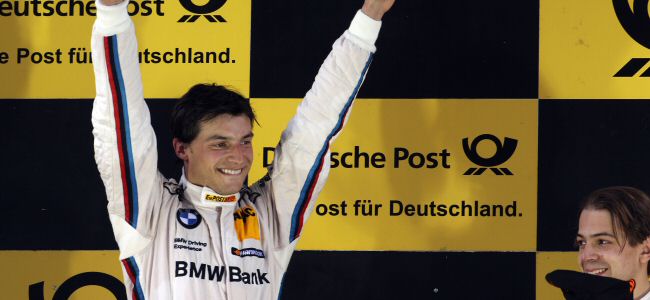 Canadian Bruno Spengler enjoyed 'one of the best days of his life' at the Lausitzring on Sunday, after taking BMW's first Deutsche Tourenwagen Masters win in 20 years and the manufacturer's 50th in the German series.
Having taken BMW's first pole position in 20 years on Saturday, Spengler followed it up with a perfect win on Sunday, despite heavy pressure from Mercedes-Benz's Gary Paffett.
"Today is a dream come true for me," said Spengler after taking his tenth victory in the DTM. "I am so happy I just want to give everyone at BMW Team Schnitzer a big hug. That was a perfect weekend for me: the first DTM pole position for BMW for 20 years, then the first victory since 1992. This is one of the best days of my life. The race was unbelievable."
Spengler's margin of victory over Paffett was a mere 1.019 seconds after 52 laps and the two-time runner up in the DTM admits that it was a difficult race.
"We had a really tough battle with the Mercedes drivers, and did everything in our power to stay in front of them," added Spengler. "Thankfully it worked – the final lap was the longest of my career. My team and I did not put a foot wrong today. That was definitely the crucial factor. One thing is certain: it is time for a celebration."
For BMW, to win in only their second race since their DTM comeback is the culmination of an incredible weekend for the manufacturer. Since making their return last weekend, to winning this weekend, the BMW Motorsport Team have been flat out and BMW Motorsport Director Jens Marqurdt was full of praise for Spengler.
"This is a very special moment – beyond our wildest dreams," said Marquardt. "Bruno Spengler's magnificent victory is the icing on the cake at the end of an incredible week. First came our impressive comeback weekend in Hockenheim, then the first pole position yesterday and now – in only our second race – our first victory in the new DTM era. That is really fantastic, simply unbelievable.
"Bruno produced an outstanding performance and took full advantage of his pole position. He has added another important chapter to BMW's success story in motorsport. On the 40th anniversary of BMW M, we have taken the number of wins achieved by the BMW M3 in the DTM to 41. That makes me extremely proud, particularly bearing in mind the hard work that everyone in the team has put in over the last few weeks and months."
Marquardt was, however, cautious regarding BMW's potential at other circuits in the DTM, citing the close competitiveness of the series in 2012 and the lack of set-up data as key factors for future performances.
"Despite this, we would be well advised to keep both feet firmly on the ground," added Marquardt. "We have enjoyed an almost perfect start to our comeback season. However, we still have to go to a lot of races at circuits where we have not completed a single kilometre in testing. Furthermore, the 2012 DTM is so close that the pack is reshuffled at every track. This means that form and trends can change very quickly. We wanted to be in a position to achieve a good result when the opportunity came along. That is precisely what happened today, and we grasped our chance with both hands."
Canadian Bruno Spengler enjoyed one of the best days of his life at the Lausitzring on Sunday, after taking BMW's first Deutsche Tourenwagen Masters win in 20 years and the manufacturer's 50th in the German series.