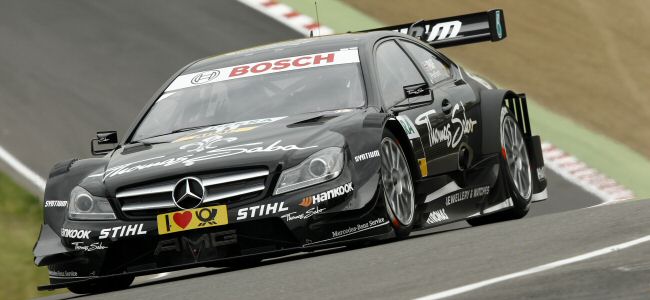 Current Deutsche Tourenwagen Masters championship leader Gary Paffett enjoyed a "fantastic" qualifying session at Brands Hatch, as he took his 9th DTM pole and Mercedes-Benz's 110th.
One the back of two strong results so far in 2012 – a win at the Hockenheimring and a second at the Lausitzring – Paffett will now enjoy the best starting position ahead of Sunday's 98-lap race around the Brands Hatch Indy circuit. However the 31 year-old is not going to be complacent going into raceday, and knows that despite the short laps the race will be a long one.
"Pole position is important in every race, but pole is doubly important at this track, because overtaking is so difficult," said Paffett. "My Mercedes C-Coupé ran really well and the team did a great job – qualifying was just fantastic.
"The race is long, almost 100 laps, and there's no chance to relax, every lap has to be perfect, without any mistakes. What's really nice is securing fastest time in qualifying before my home race. After achieving victory at the opener in Hockenheim and second place in the Lausitz, we're in with a really good chance of securing another good result tomorrow."
Paffett will have alongside him 23 year-old Christian Vietoris, who scored his best-ever qualifying result in the DTM.
"Qualifying went just as I had imagined," admitted Vietoris afterwards. "I feel really at ease at this track and I'm well placed for the race in second position. Overtaking is very difficult around this circuit and the weather is still a bit of an unknown quantity – let's just see what tomorrow brings. But I have to say, I'm very pleased with today."
Mercedes-Benz Vice President of Motorsport Norbert Haug was delighted to see such a close qualifying session, which saw all 21 drivers covered by just over seventh tenths of a second.
"That was no ordinary qualifying," expressed Haug. "It was a real thriller of a session, the likes of which we've never seen before, so gripping, so exciting. BMW set the pace in the second qualifying session with Martin Tomczyk, Augusto Farfus and Bruno Spengler, then Audi and Mike Rockenfeller piled on the pressure in Q3, posting a fantastic time out on the track. But it was our turn in Q4 with Gary Paffett and Christian Vietoris. We achieved the fastest times, a double pole and front row lock-out.
"Hitchcock himself might have scripted today's events since no-one could have predicted the outcome of this thriller. It is really terrific to have this result under our belt and to have set the scene for success in tomorrow's race."